Protect yourself !
Learn how forex scam robots work
---
I picked up a really good lesson on forex scams that you should check out. Rob Casey is one of the stalwarts of the Forex trading industry and he's been around for a while.

Having released many reports and robot optimization techniques in the past like the Fap Turbo Expert Guide, he's no stranger to trading robots. Now, he is pulling back the curtain and about to expose exactly how Forex Robot Scams work.

The intention with the school is to expose the ways some unscrupulous robot vendors are not only destroying your trading accounts but also the Forex robot industry.

The more people that know about the techniques they use the harder it will be for them to survive!

In case you missed the first free video lesson that he released on the 6th January 2011, I have included a summary of the information he presented below;
Summary of lesson 1

Rob started the lesson by explaining that the best settings for a forex robot are not necessarily the "default settings" that the vendor recommends to you after you have purchased his robot EA.

The reason for this apparent conflict of interest comes from the pressure exerted by the "marketing people" whom sell or promote the robot. The marketers need to compete with other robot results out there in the market place and need to show exceptional trading results. Hence, the robot is stretched in relation to risk and safety so as to be a hot salable item.

Rob mentions that the owner developers of the robots are probably trading the robot with lower risk settings. Lower risk settings mean lower profits, which does not translate well for selling and marketing of the robot.

Rob explains that there are many great forex robots out there in the market place, not all are forex scams but they are being sold with the wrong settings. These higher risk settings compromise the trading accounts of buyers by putting them at risk of blowing up. And along with that, a bad reputation for the robot and the industry in general.

Rob also says he knows of marketers or scammers sneaky tricks like opening about 20 live real money accounts with $1,000 each and running them for about six months and then hoping that at least one account is still standing at the end, in which they use to promote the robot EA with full investor access to a real money account. The other 19 unsuccessful accounts which are blown up and destroyed are not mentioned.

Finally Rob also goes on to say that testing a forex robot on a demo account is good so as to weed out the outright forex scam robots and also to understand the trading characteristics of the particular robot.

He also recommends that buyers of forex robots should reduce the risk settings that the robot comes with when bought and better still to learn how to optimize the settings yourself, which he says is easier than most people think.

Rob Casey has a guide out for people interested in learning more about forex robots entitled "MetaTrader Back Testing & Optimization Course".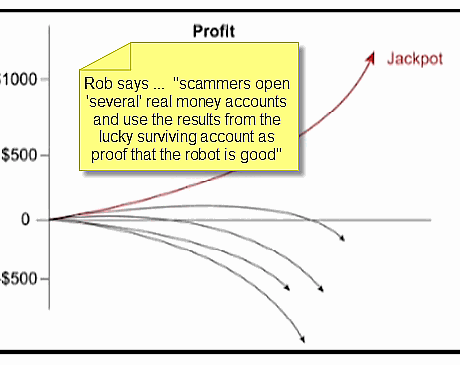 Summary Rob Casey's forex scam lesson #2.

In Rob's second lesson he says that forex robots need to be optimized on a continual basis to take into account changing market conditions.

Rob says that this is the reason why robots stop working after a short period of time after they have been purchased. Because they are optimized at the time of sale, but then fall out of market sync, as he calls it.

He mentions that the real money live account results shown on vendors sales pages may include re-optimizations over the specified period. These re-optimizations not being mentioned by the vendor.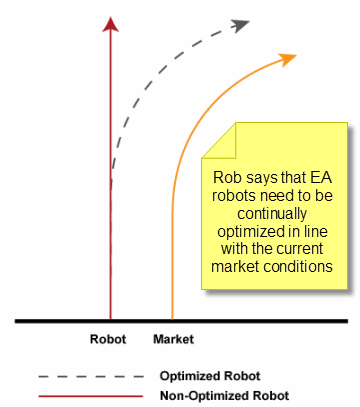 Rob teaches people how they can learn how to optimize their forex robot properly in his course MetaTrader Back Testing & Optimization Course.


---
Summary Rob Casey's forex scam lesson #3.

Rob explains that backtests need to be done with a very high modeling quality of data, near 99%.

As seen from the graphic below MT4 software provides backtest users with a model quality rating based on a percentage. The first one shows 90% modeling quality while the second shows 99%.

Backtest results will show different results based on the accuracy of the data tested. So there could be huge differences in test results between 90% vs 99% modeling quality.

Rob also bought out that there is misinformation being spread about the usefulness of backtesting. Backtesting has its place when done correctly. Every robot developer uses backtesting to some degree.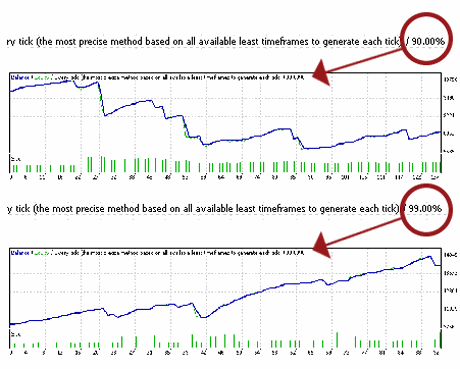 As a part of Rob's forex robot course he shows the secret to optimization that allows modeling with 99% quality. His course is MetaTrader Back Testing & Optimization Course.

Take a closer look at some of Module 4 and the courses table of contents here.

---
Return home from forex scam robot identification

[About Us][Contact Us][Privacy Policy][Disclaimer][Search & Site Map][Blog][Transparency][About You][Newsletter][Live Results][Reviews][Questions & Answers][Articles][Join Us][Free Systems][Winning Systems]