Instant Forex Profit by Kishore M
Forex trading course reviews
---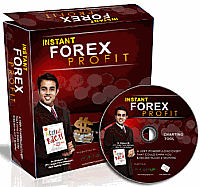 What is Instant Forex Profit course by Kishore M like? Come and write a review and tell us your experience with this course.

As the course includes forex signal alerts, trading room access and support via chat & email, please tell us how they performed with all these features / bonuses.

[NB : Kishore is also the creator of a short course called QuantumFXPro. View feedback on that course here. ]

Official website : www.ifxprofits.com

Happy with this forex training course? Or think they could do better?
Do you have anything to say about the forex education and training you received from this business? Share it!
What Other Visitors Have Said
Click below to see contributions from other visitors to this page...

Return home from Instant Forex Profit reviews

Quick facts taken from official website:

About Kishore M, the creator of Instant Forex Profit trading course.

The Best Selling Author,EX FX Fund Manager, Master Trader and Award Winner.

The only one with a Certified track record of Making Money Kishore M (B.COM, MBA, CEP (IIT), ADSM) has over a decade of experience in the Stock , Properties, Forex, Commodities & Derivatives Market. He received Master in Business Administration from Southern New Hampshire University USA earlier known as New Hampshire College , Mastering Alternative Investments Certificate from INSEAD, his Advance Diploma in Computer Systems Management from NIIT and a certificate in Computer Network & Internet Applications from IIT kharagpur.

He is a certified Investment Representative, ETS Derivatives Qualified Trader. He is trained by Chicago Board of Exchange and Pacific Stock Exchange Members in Derivatives Instruments on Options & Futures Trading, and formally educated in Derivatives instruments from the University of California Berkeley (Ext), USA .

He started his career with a Securities Broking Firm on the OTCEI exchange as a Private fund & Equity Manager, managing portfolio for high net worth individuals and subsequently headed several startups in Asia and in US ( Silicon Valley ). He has conducted Stock & Derivatives seminars for International Brokers such as REFCO based in Singapore and Regional brokers such as CIMB based in Malaysia.

He is the author of best selling book - "Retire Rich Trading" and his articles have appeared several times in Singapore Stock Exchange Magazine and he has been featured several times in Indonesia (Jawa Pos) & Middle east Newspaper (Khaleej Times).

He has also been featured in Bloomberg TV, BBC, Malaysia Business TV Channel & Singapore Channel NewsAsia , News Radio 93.8 FM, Asian Banker Journal, and on Global Hedge Fund websites such as Hedge fund Center, HedgeWeek, HedgeFund Research and Hedge Funds World .

His Entrepreneurial skills has won him the TII status Award(Technopreneur Investment Incentive Status) from EDB Singapore Government. He is an active member of TiE world's leading Venture Capital Association, a member of SIPA (Silicon Valley Indian Professionals Association) and one of the most sought after speaker for entrepreneurship, capital markets, derivatives and Alternative Investment.

He provides Derivatives workshop to senior corporate management teams, Broking Houses and Derivative Exchanges Members and conducts Stock Market Seminars to public audiences across Asia & Middle East. He has trained over 100,000++ participants in 10 countries (Hongkong, Malaysia, Singapore, Indonesia, Middleeast, Phillipines , London etc) in the area of alternative investments.

Some of his participants include professionals from ABN AMRO Bank, RHB Securities, AMEX, Deutsche Bank, HSBC, Citibank, Doha Bank, CIMB Securities, Manfinancial, REFCO, DBSVICKERS, CSFB, UOB Bank.

He was a CNBC-TV18 markets Anchor for a brief period. He also publishes an investment newsletter - Traders Alert, every week and trades his own account under his proprietary trading company - Futures Capital Holdings which has a performance of 99.05% return (2003-2004) and 233.13% return (2003-2005) attested & certified by auditors.