Brainyforex's Transparency
---
Brainyforex.com strives to implement procedures and practices that enables its website visitors to enjoy the highest level of transparency possible. This means we strive to make this review site candid, open, frank, honest, clear, etc.

The public's participation is encouraged on all subjects on the site.

If anyone has any suggestions on how brainyforex can further improve on it's transparency we welcome such feedback. Simply add your suggestions on the page below and a response will be provided.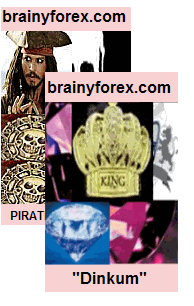 Mission statement
The overall goal / mission of brainyforex with the assistance of the public is to identify real genuine forex products that really work.


This will benefit everyone who is interested in investing in the forex currency market. Short term scalpers, position traders to long term speculators and investors.

Does brainyforex receive a commission from products listed on the site?

Affiliate links are used on those products and services that include reseller commissions.

Most (if not all) products with affiliate reseller commissions come with a 60 day money back guarantee if not satisfied with purchase. Where customers are still worried about the honoring of such refunds by vendors, the use of a visa card is recommended as 'Visa' includes 'purchase insurance' whereby they can refund your money in case of scams.

The use of affiliate links does not affect brainyforex's subjectivity as there are thousands upon thousands of profitable forex trading products available and we do not want to tarnish our reputation by recommending under-performing products. This review site has been set up for the purpose of finding "Genuine Forex Products" and must stay true to it's objective.

Brainyforex also invites members of the public to participate in sharing their genuine trading experiences and thereby qualify to get their own mini-site within brainyforex. Therein they can include their own affiliate links so they can benefit from their efforts in assisting other traders by sharing. Front page links and regular newsletter mentions are provided. Read more here.
Visitors whom support brainyforex by purchasing products through the site benefit by further improving the site as funds are used not only to run, expand and improve the site but also to test trading systems using 'real money' accounts.

Public reviews 'IP address' coded for authentication purposes

Brainyforex is aware of the possibility of fake reviews being contributed by vendors / vendors agents so as to improve their image or discredit their competition. To help reduce this possibility brainyforex contributors IP address is coded and kept for verification purposes.

What is an IP address? Every machine on the Internet­ has a unique identifying number, called an IP Address. A typical IP address looks like this: 216.27.61.137. After applying brainyforex's secret code this IP address would be displayed as -1-23.-15.11.079. (Totally different and only known to brainyforex and no one else).

So as to protect the privacy of peoples IP addresses, this secret undisclosed code is applied to the IP number before displaying under review comments.

Live trading statements through MT4i.com

All systems that are tested are shown through a third party reporting service MT4i.com. Successful systems are continuously run using real money accounts with current trading statements available as they happen. Brainyforex first tests systems using demo accounts. After satisfactory performance they are moved to real money accounts. Visitors are advised which are real vs demo money accounts.

Your feedback welcome

We look forward to further improving our transparency if you have ideas. Just let us know your suggestions below.


Comments, feedback, suggestions ...
Share your thoughts
---
Return home from brainyforex transparency

[About Us][Contact Us][Privacy Policy][Disclaimer][Search & Site Map][Blog][Transparency][About You][Newsletter][Live Results][Reviews][Questions & Answers][Articles][Join Us][Free Systems][Winning Systems][Affiliates]