Hi


AUDUSD
Welcome to the brainyforex newsletter special commentary.

AUDUSD

Following from our prior recent newsletters we are now going to exit our AUDUSD positions. Today 25 September 2009.

As seen from the chart below we can see that the price vibration did not co-operate any longer with the trade so it is now time to exit our two positions.

Our first position we made + 34 pips.
Second position lost – 84 pips.
Net result = -50 pips.

Our other confirming factors for closing this trade are shown by our main analysis of the DJIA and US Dollar.

The DJIA vibration was also broken to the downside showing weakness, similar to that of the Aussie Dollar. We also got a break of the swing low indicating DJIA has lost steam.

US Dollar analysis shows the downside vibration was broken to the upside, indicating the downtrend for the US Dollar is temporarily halted.

We now put all three analysis together. (Aussie Dollar, DJIA and US Dollar) and we reach the conclusion that the fast upward move for AUD/USD is over. At least temporarily anyway.

We can expect to see a few days down for AUD/USD OR a choppy sideways movement for the next few days. After this we can re-evaluate the market patterns and see what direction we enter the market.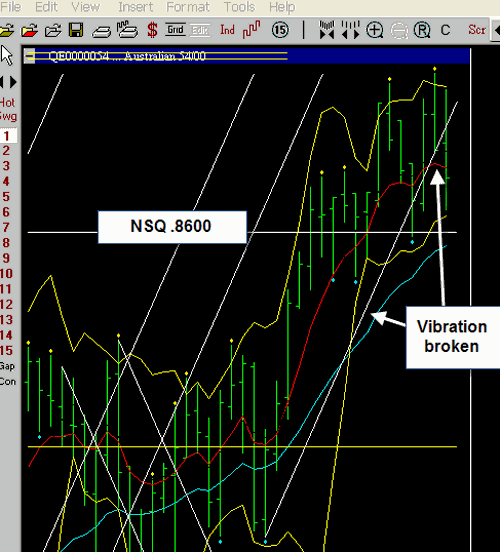 AUDUSD Daily Chart 25 September 2009.
Till next week
Fritz
www.brainyforex.com