Hi


US Dollar looking forward from 5 June 09
Welcome to the brainyforex newsletter special commentary.
Previous week EURUSD
Last week we considered the possibility of resistance at the 1.4200 price level for EUR/USD due to the natural square level and vibration level both meeting around this level.
How did the price action go for the week?
Take a look at the chart below to see how price could not hold above the 1.4200 level for more than one day. Shows WD Gann's techniques still working today.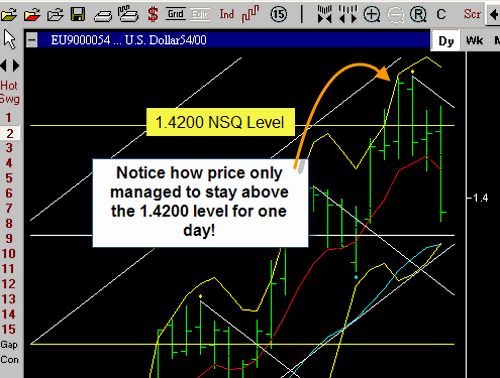 Daily chart EUR/USD 5 June 09
This issue will focus on the US Dollar
Why analyze US Dollar?
In order to forecast the direction of the major currencies we can gain valuable assistance from analyzing the US Dollar as the majors are paired against the US Dollar. For example take the Euro. EUR/USD. When the US Dollar declines in value it means that the Euro should appreciate in value. ie Opposite direction.
Hence, it is a good idea to make it a practice to analyze the US Dollar as added support for any forecasts that you do.
US Dollar Looking forward from 5 June 2009
In our forex forecast for the week ending 5 June 2009, we considered the possibility of resistance at the 81.00 price level. We felt that price would have a difficult task to get through and stay above this level. The reasons are shown below on the chart by the color arrows.
Daily chart
Blue arrow show 2 day swing point. If price moves above this level then there would exist a large probability that the downtrend is changing to an uptrend.
White arrow shows vibration level resistance. If this resistance level is broken then it would mean a large possibility for further upward price movement.
Yellow arrow shows price currently at the upper side of bollinger band, which means it is statistically overextended to the upside, meaning price should move back down.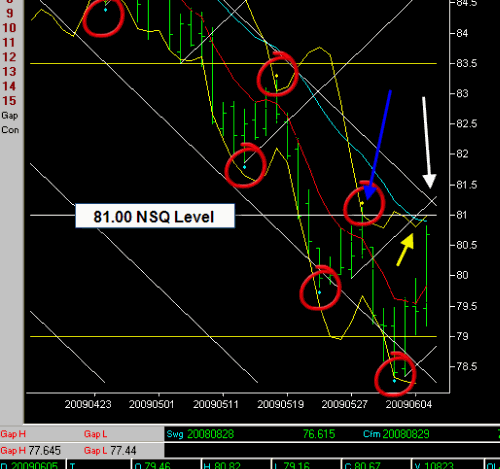 Daily chart of US Dollar
Weekly chart US Dollar
Blue arrow = Break of swing low shows down trending market.
Green arrow = Prior week high not exceeded. Shows price still weak.
Red arrow = Downward direction and price under 7 period exponential moving average. Bearish
White arrow = Break of vibration line to the downside. Bearish.
Weekly chart of US Dollar
Monthly Chart US Dollar
White arrow = Break of vibration level indicating downward price action.
Monthly chart of US Dollar
How is the US Dollar looking today at 11 June 2009?
Looking at the daily chart below for period ending 10 June 2009, we see price is currently having problems getting above the 81.00 level. Exactly as anticipated. Once again, Gann analysis shows us how good his techniques are.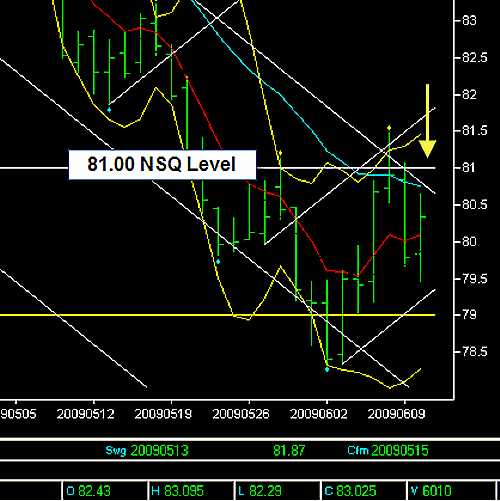 Daily chart US Dollar 10 June 2009.
Till next commentary
Regards
Fritz
brainyforex.com