Hi


USDJPY Trade
This weeks newsletter is early because I am traveling up to Perth this week, so I will not have time to compile it mid-week.
Continue USDJPY trade
From last week we were waiting for our short USD/JPY trade which we entered at 95.80 to hit our 50% profit target at 93.70. The remaining 50% open position we will follow down as price continues to move down.
As shown on the chart below we see how price screamed down to 92.62 on 8 July. This produced a profit of +210 pips for half of our position. (Orange arrows).
We now move our stop loss for the remaining 50% open position to 93.20. (This is 3 pips above the prior day high of 93.17). (Orange line).
This means that if price reverses quickly against us we will still lock in a second profit of +260 pips.
For the remainder of this week we will move our stop loss down each day to the prior days high. If price slows down and prices for two days are similar we give our stop loss a little more breathing space. We use the high of the prior two days as our stop.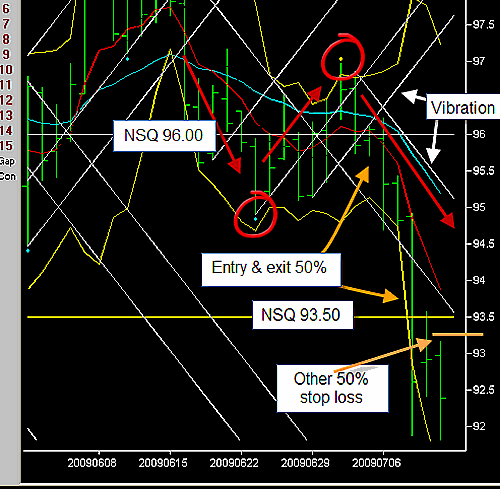 USDJPY Daily Chart 10 July 2009, showing 2 day swings.
Till next week
Fritz
www.brainyforex.com