Hi


USDJPY Trade
Welcome to the brainyforex newsletter special commentary.
Continue USDJPY trade
What happen with our remaining 50% position on our USD/JPY short position? From the last newsletter we were going to move our stop loss down each day to the prior day high. Lets see from the chart below what happen.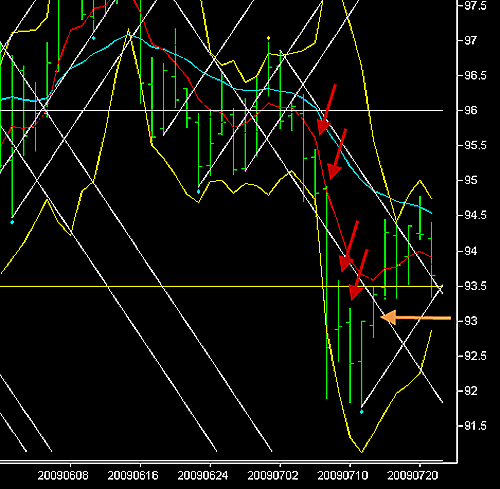 USDJPY Daily Chart 21 July 2009, showing 2 day swings.
Red arrows show prior day highs, where each day our stop loss was moved down. As shown by the orange arrow on the 14 July price exceeded the prior day high of 93.00. (Prior day high was Monday 13 July). This was our exit for the remaining 50 percent position. The exit strategy worked well because price continued to move upwards for the next five days. We do not want to remain in a position that moves this far against us.
Our profit for this 50% remaining position was + 277 pips. (95.80 – 99.03).
As I am writing this on the 22 July, price is starting to set up for another short trade on the USD/JPY. If price moves and stays under the natural square level of 93.50, I will enter another short position. Notice when price breaks under the vibration and natural square level we have good trade opportunities. Remember, we must use stop losses as no strategy is 100% accurate. We do not want to give up our profits on any one bad trade that goes against us.
Till next week
Fritz
www.brainyforex.com