Hi


Current USDJPY Trade
Welcome to the brainyforex newsletter special commentary.
This week we follow up on USDJPY trade
Last week we entered a short position on USDJPY as price dropped below our natural square level of 96.00. We entered 20 pips under this level at 95.80. We exited the trade at the 1 day swing high of 96.56 for risk management purposes. Our loss was 76 pips.
Price turned back around and proceeded down again as first anticipated. We re-entered the position on the same price level as our first trade. That was 20 pips under the natural square level at 95.80.
This just meant that it took us a second try to position ourselves for our trade. We do not want to stay in a trade that is going against us and hope and pray that it turns around. We simply exit the trade and live a stress free week. We can always re-enter the trade as we did in this case.
Where to from here?
We now look for another natural square price level as a profit target for 50% of our position. This NSQ level is 93.50. The remaining 50% we want to stay in the trade as long as possible so we keep this for the longer swing, should it occur. When these longer swings occur we want to be in them. Thats where we make larger sums of money that will cover our previous stopped out losses and provide us with good returns.
The chart below shows the red arrows indicating a downward zig zag on the 2 day swing chart. The white arrow shows our half profit target at the natural square level of 93.50. (We enter a take profit target of 20 pips above this level at 93.70). Once again, if the trade does not co-operate with us our initial stop loss of 96.23 will exit us out of the trade. If we are stopped out we will wait to re-position ourselves once again for the downside trade.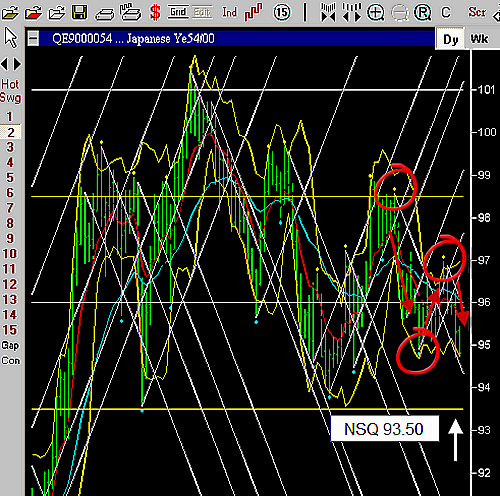 USDJPY Daily Chart 7 July 2009, showing 2 day swings.
Till next week
Fritz
www.brainyforex.com