Hi


Market Commentary
Welcome to the brainyforex newsletter special commentary.

Market Update 17 November 2009

Forex Trading
Update 17 November 2009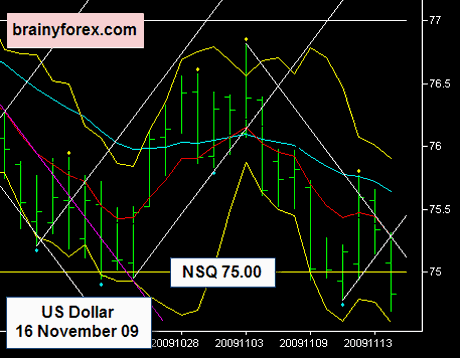 US Dollar daily chart 16 November 2009.

Following from yesterdays market commentary, we see the DJIA has now passed the 50% range resistance level. (Now 10,407). This has now opened the way for the US Dollar to fall to 74.82. (ie Under the 75.00 natural square resistance level).

Positions have been taken on all the major currency pairs (paired against the US Dollar). Bullish trades for EUR/USD, GBP/USD and AUD/USD. Bearish trades for USD/CAD, USD/CHF and USD/JPY.

We now need to ensure that the US Dollar does not close above the 75.00 cent level. As long as 75.00 acts as resistance our positions should go in our desired direction.

Notice on the above chart how accurate the white vibration lines are when used in combination with the natural square levels. When there is a break in the vibration level and the natural square level at the same time, that provides us with a high probability trade setup.

Ensure to follow the market commentary on the home page of brainyforex.com. Updates posted regularly.

Regards
Fritz
www.brainyforex.com