Hi


Market Commentary
Welcome to the brainyforex newsletter special commentary.

Market Update 4 November 2009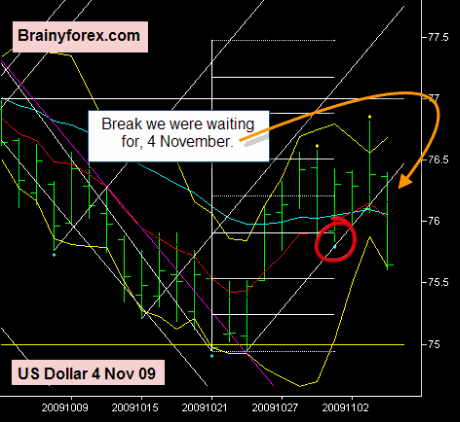 US Dollar daily chart 4 November 2009.

As seen from the above chart we notice;

1) Natural square resistance level holding at 77c.
2) Break of two day swing low. (Red circle).
3) Break of vibration level on daily and weekly chart.

However care needs to be exercised if taking long positions in AUD/USD, EUR/USD & GBP/USD and short positions in USD/CAD, USD/JPY and USD/CHF because DJIA retraced its bullish one day move. Over the next 24 hours this could have the affect of pushing the US Dollar back upwards a little?

We see most of the major currencies right now up against their natural square resistance or support levels, which will make their further drive difficult.

We also notice that a trend pattern has not yet been established in the direction of the main trend. This means that they have a larger probability of reversing any move they make from today.

Before taking any positions, it is best to wait and see what happens over the next two days. If the majors clear their natural square levels and the US Stock market makes a bullish move then we may have a nice trading setup being established.

Of Interest
WD Gann said the greatest weakness in trading was our own humanity.

If you do not know what he was pointing at, read the article at brainyforex.com, click here.
Till next week
Fritz
https://www.brainyforex.com