Double Top and Double Bottom
Chart Pattern

---
Adam Hewison, president of www.ino.com shares his favorite chart pattern setups. He says he's been trading double tops and double bottoms for thirty years with a 90% accuracy rate.
Don't know if Adam realizes that these chart patterns along with his double the range for "take profit targets" has long been promoted by WD Gann many years ago.

Take a look at the two chart patterns below, they have been extracted from Adam's Market Club's Traders Whiteboard.

The below chart patterns of the double top and double bottom are entitled "2 Money Making Chart Setups".

If you want to view these video's and the other in the series of seven, they are available free of charge at http://club.ino.com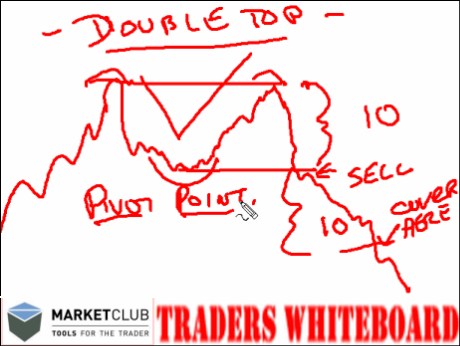 Notice that both chart patterns, the double top and double bottom are exactly the same, only in reverse.

Also notice that the level from the 'pivot point' to the end of the price level is simply added in the the opposite direction to obtain the 'profit target'. Watch this video (lesson 2) and the other six FREE lessons in the whiteboard series here.


More FREE lessons from other educators
If you would like more FREE lessons from other high quality educators click here.

For ex-competition trading systems go here.
---
Return home from chart pattern