Euro Currency Analyzed According to WD Gann
16 February 2011

---
On today's currency chart of Euro or EUR/USD 16 February 2011 we see four indications that price "may" move higher from here.
Price is currently on 1.3522 moving down towards our preferred buying area of just above 1.3500.

From the 3 hour price chart shown below notice the following four indications that WD Gann mentioned that show price should move upwards after touching the 1.3500 price level;

1) Price is retracing toward a major psychological round level of 1.3500.

2) Price will reach the 50% retracement level of the current uptrend once it reaches the 1.3500 level. Notice half way point between point A & B.

3) 1.3500 is a resistance / support level as shown on the chart.

4) Notice price currently making higher highs along with higher lows.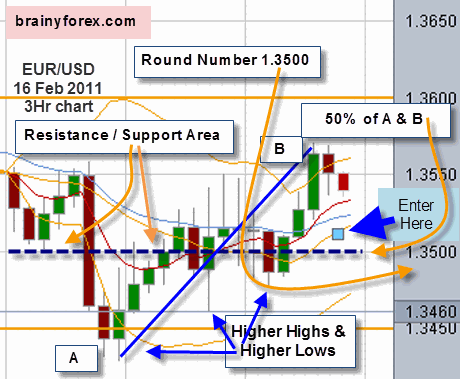 The blue box on the chart shows where we would look at buying the EUR/USD currency. The pending order is 10 pips above 1.3500 at 1.3510.

Remember that there are no certainties even with Gann analysis techniques, only probabilities. Our goal in buying and selling the Euro currency at the most opportune times is to have the probabilities in being correct stacked in our favor.

We also know from inter-market behavior that the US Stock Market is bullish and the US Dollar is bearish, which in turn means the pressure is for the Eur/Usd currency pair to move higher from this point.
Next Day - As It Happened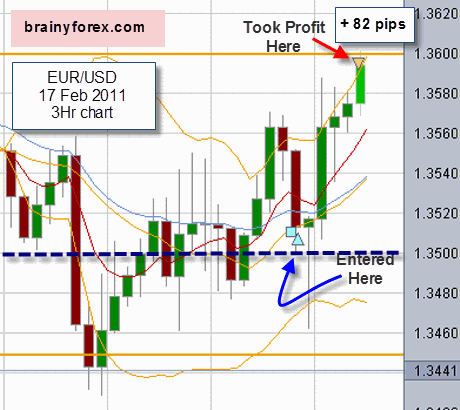 Next day 17 February 2011

Next day woke up to find our short term investment had worked out and closed the euro position for + 82 pips profit at 1.3592.

Notice that price did not stop on the 1.3500 level. Instead it proceeded down further to 1.3462 before moving back upwards.

If we had the time to watch the price bars we could have waited for the prior high of the previous bar to be exceeded before entering the position. Or we could have programmed our strategy into a automated trading system to do this for us. As it was we opted to enter the position without such luxuries and still worked out.

The reason for closing the position at 1.3600 was because it is psychological round number.

1.3600 is also a former resistance area.

It is also a natural square level. Refer the orange lines on chart.

Also, at the top of a bollinger band.

Traders whom like trading within the bollinger bands would have had a perfect trade as notice the lower bollinger band would have produced a perfect entry signal.

Also, remember price may continue to move upward from this point as each LOW of the former price bar is higher than the last price bar. Some traders may like to wait for the prior low of the prior price bar to be broken before closing the position. It all depends on your trading strategy time frame.

Other traders may now like to close the position at this point and then wait for another pull-back before re-entering with another position.

Nobody in the world of finance and investing forces you to keep your money invested during a down cycle!

Return to Euro analysis here.
---
Return home from Euro Currency Analysis