[Advertisement] Steve Nison's powerful training program will help you achieve amazing new heights in your trading and investing career.
Fibonacci Crab Pattern
by Sunil Mangwani
(www.fibforex123.com)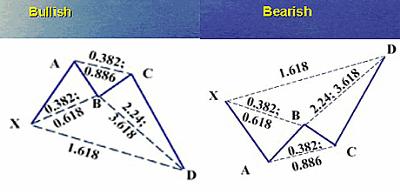 The Crab pattern
This is the most precise pattern, which has fixed ratios for the set up.
In this pattern, the Fibonacci ratios that give reliable reversals are –
a.) The D point forms at the 161 projection of XA.
b.) The CD forms an extreme wave, which would be anywhere from 2.24 projection
of BC onwards. (2.24, 2.618, 3.14, 3.618)

Harmonic patterns apply specific Fibonacci retracements and extensions to a price structure. These patterns can be quite powerful and often give you straightforward entry
and exit points. The main advantage of these patterns is that they leave little to guesswork and rely on specific Fibonacci numbers.

Sunil Mangwani website is www.fibforex123.com

More harmonic chart patterns here.
Join in and write your own page! It's easy to do. How? Simply click here to return to Forex trading strategy articles.