Forex Mentor Pro review by brainyforex

---
Brainyforex has been provided with access to Forex Mentor Pro 2.0 which provide forex trading education mentorship through their membership portal.

Upon logging into the membership site the user is provided the following menu.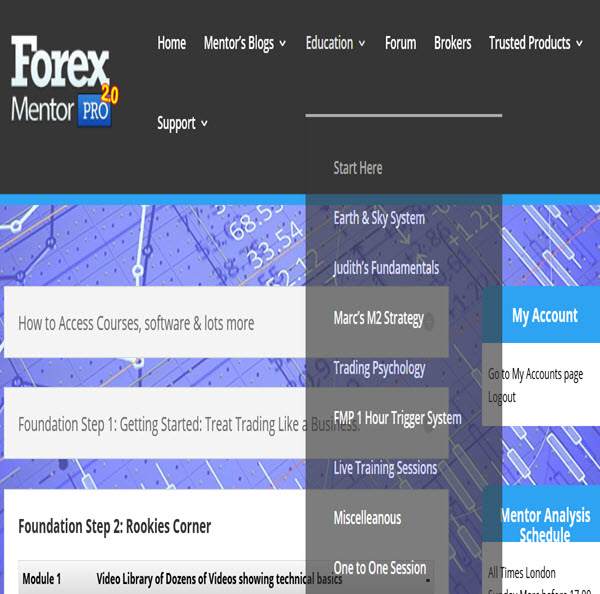 By the looks of it Forex Mentor Pro 2.0 membership site does have it all covered. They have tons of educational materials and videos explaining every facet of trading; mindset, money management and technical analysis.
They provide help for members through an experienced team of full time traders / fund managers whom provide assistance with current market setups, technical and fundamental analysis through blog posts, weekly live training and the forum. They teach through their own trading examples.
I can see why they have a online five star rating for their service. Membership is based on a reasonable fee of $47 per month (Sept 2017) without any long term commitments. Nobody is going to feel ripped off by having unlimited access to tons of educational materials and the help of real full-time traders. It's all there for the $47, so if anyone does not like what they learn within 30 days they just cancel their membership for the following month and they walk away and it only cost them $47. Or if anyone is totally disillusioned about the experience, they have the option to request a refund on their first months $47 payment as this service comes with a 30 day money back guarantee.

For these reasons Brainyforex gives this forex trading course / mentoring service the thumbs up.
How the Forex Mentor Pro team trade
From my quick review of the Forex Mentor Pro membership area, the professional Forex Mentor Pro team trade with the basic concepts of major support / resistance, trend lines, chart patterns like head & shoulders, double tops / bottoms etc and taking into account the larger trend and fundamental data.
Each member of the team still have their own unique entry and exit setups that make them different (which they explain) but they all appear to use the same foundation as explained above. Marc Waldon's unique approach for example is that he takes trades that retrace back toward support or resistance after a breakout whereby others may just enter on the breakout.
For those familiar with this type of trading and whom are not succeeding as a trader it may be a case learning correct money management principles or overcoming psychological barriers? Both of which the Forex Mentor Pro team addresses.