A review of forex news trading software called News Trade Sniper
---
Sorry - NewsTradeSniper is no longer on the market.

When it comes to forex news trading software brainyforex is always on the lookout to test reputable and quality news trading products. Nelson and David the creators of this software were happy to provide a review copy for the benefit of brainyforex visitors.
The founders claim that ... "Over the course of the last two years, our traders have not experienced a single losing month. In that time, their accounts have collectively grown by over 322%". (Nelson & David newstradesniper.com) Once you log into the members area you are greeted with the following dashboard as shown below;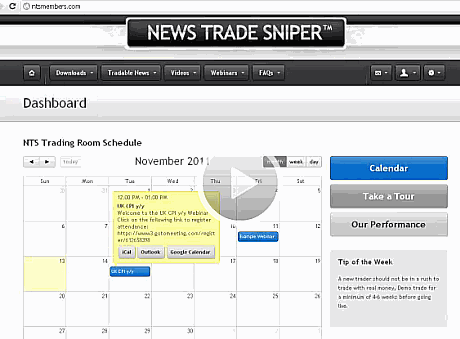 The dashboard shown of the News Trade Sniper members area contains very easy to follow videos covering everything from navigating around the members area, the trading strategy, download link for the Spike Trader Pro Software EA and upcoming news announcements along with webinar links.

Nelson and David cater even for the complete novice with a video about placing trades using the Metatrader platform.

I was interested in taking a closer look into the actual Spike Trader Pro software.

This software is a build MT4 expert advisor whereby you follow instructions provided by Nelson whom is the chief trader when setting up the trading variables before the news announcement is issued.

The following screen shots show this software expert advisor;


Installing the Spike Trader Pro is easy as a "how to" video is provided with step by step instructions.



The Spike Trader Pro software is designed to automate the order process so that the trader does not even need to be sitting in front of their computer screens. All what is required is selecting the stop loss which is mainly 10 pips. (Entered as 100 pips for those with 5 digit brokers).

Select other variables such as profit target (usually between 10 to 100 pips per session) and date and times of the news announcement.

Nelson the chief trader basically advises the recommended settings prior to the news announcement through webinars. Webinar replays are available for those whom would like to watch them according to their own time schedules.

The major currencies are mostly traded.

The actual automated spike trade usually lasts anywhere between 30 seconds to 20 minutes.

Using the Spike Trader Pro software is optional.

The secondary news trade is placed manually and based upon a retracement strategy. This position can remain open anywhere from 2 hours to 5 days. The stop loss is usually between 25 to 100 pips for the major currency pairs.

The swing trade strategy is emailed in advance to members through email with exact entry and exit points.

Read and submit public reviews for News Trade Sniper here.

Introduction into trading the news read here.

Or catchup with the latest forex news here.


---