Forex Robot Reviews
Shows Insights to Winning Robots

---
Reviews of 2008 Automated Trading Championships


The following forex robot reviews are based on the results of the 2008 Automated Trading Championships. The goal was to try and find out the secrets to these top robot systems. To work out the actual ingredients of a winning automated forex trading system.
The competition was run and organized by MetaQuotes Software Corp. A big thank you to them also for making available the trading results and actual trades that enabled the compiling of these forex robot reviews. The results are publicly available at http://www.championship.mql4.com/2008/users for those that would like to study them further.

The competition ran for 3 months from 1 October 2008 to 26 December 2008. The starting capital was US$10,000 virtual money. Leverage 100:1. The maximum lot size per trade was limited to 5 lots. Maximum amount of simultaneously opened positions and pending orders was 3. Other rules can be obtained at the above website.

Summary of the results

A summary of the top ten systems can be viewed here.
How these forex robot reviews were done

The top ten systems have been tabled below into the order of best (number 1) to worst (number 10) according to the different system statistics. The purpose of this rating system was to see where on the scale the top three systems placed. Would "all" of the first three winning systems rate about the same as each other for all the system statistics? Was there a common factor or secret that placed them in the top three positions? Lets take a look below and find out.
Results - 2008 Automated Trading Championships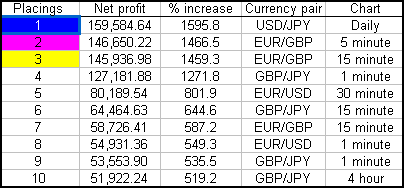 For the purpose of this forex robot review, the top ten systems are now ranked below according to system statistics from best to worst; (The winner is shown in blue, 2nd place purple and third place yellow).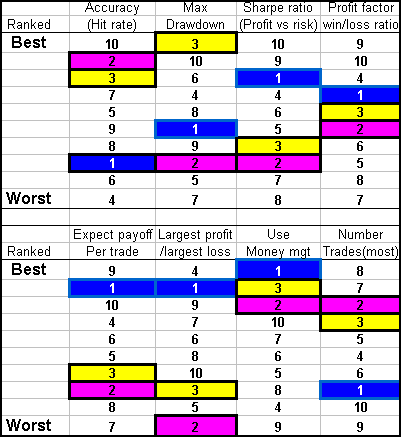 Forex Robot Review - 1st placed robot
What did 1st Place do to win the competition with a profit of 1595.8%?

His robot traded USD/JPY daily time frame.

He had setup a trading system of 460 pip profit target with a 180 pip stop loss. His aim was to achieve about a 2.5 win / loss size per trade.

His systems accuracy hit rate was only 59.26% correct. That made his robots hit rate rank eighth out of the top ten for accuracy. Nearly all of the other top ten contestants had a more accurate robot system than his, yet he still out performed their systems.

The winners system excelled in Expected Payoff per trade ranking second in the top ten as well as ranking second of the largest profit to loss ratio. The system also used the most aggressive money management, ranking number one out of the top ten.

He rated third for sharpe ratio and fourth for profit factor (win/loss size ratio).

Forex Robot Review - 2st placed robot
What did 2nd Place do to rank so well?

The Second place automated robot traded EUR/GBP 5 minute time frame.

He diverted from the traditional approach as used by number one place. Instead, he set up his robot with a take profit target of 5 pips with a 30 pip stop loss. We could say this is not the text book way of trading. Risk 30 pips to make 5 pips? However, his robot made 1466.5% profit in three months so who can argue against that? The reason his robot performs so well is that it has a 92.99% accuracy hit rate. Ranked second out of the top ten for accuracy. His system also made 1,113 trades in the three months. Only two other systems in the top ten made more trades than his system.

He ranked third out of the top ten for aggressive money management. Max drawdown, Sharpe ratio and Expected Payoff rates system at eight out of ten respectively. The system also had the worst Largest Profit to Loss ratio out of the top ten rankings.

Forex Robot Review - 3rd placed robot
Third place almost came equal second with an impressive 1459.3% profit

Third placed robot in the championship also traded the EUR/GBP, but on a 15 minute time frame.

His robot was set up to take small profit targets of between 5 and 27 pips. (Profit targets were either 5 pips, 10 pips, 14pips or 27 pips). He always used a uniform 28 pip stop loss for every trade regardless of profit target.

Very similar hit rate to that of second place. 91.43% correct trades. That puts his robot in third place for accuracy out of the top ten robot systems.
Outstanding features for this robot is its low maximum drawdown. With a 9.76% drawdown factor, it places an outstanding first in this area out of the top ten systems. (Maximum drawdowns for first place was 46.12% and second place 48.93%).

He ranks second in the top ten for using money management relating to compounding trades.

Sharpe ratio is 0.19, placing the system seventh in the top ten systems for profit vs risk.

The system did the fourth most trades out of the top ten. 595 trades in the three months.

Forex Robot Review Summary

Overall the forex robot reviews shows the top ten winning systems averaged a 2.6 profit to loss factor. The number one winning system had a profit factor of 3.2, second place 1:86 and third place 2.33.

For aggressive use of compounding money management, the winner ranked most aggressive, second place ranked third aggressive and third place ranked second out of the top ten competitors.

Also of interest to note is the direction of the trades of the top three entrants. The winner whom traded the USD/JPY daily time frame entered 19 short positions and 8 long positions. Second place contestant trading EUR/GBP 5 minute time frame entered 521 short positions and 592 long positions.

Third place contestant whom traded the EUR/GBP 15 minute time frame entered 595 long positions. No short positions.
Overall the time frames the top ten traders used were as follows; The winner was the only one to trade his robot on a daily time frame. Second place the only one to trade his robot on the 5 minute chart. Third place, sixth and seventh traded their robots on a 15 minute time frame. Fifth place was the only one to trade the 30 minute chart. Tenth place the only one to trade the 4 hour chart. Forth, eight and ninth place getter's traded their robots on the one minute chart.

Currencies traded by the top ten were as follows;

USD/JPY First place
EUR/GBP Second, third and seventh place.
GBP/JPY Fourth place, sixth, ninth & tenth place.
EUR/USD Fifth & eighth place

In completing the forex robot reviews the results were very interesting in that first place was won by a robot trading a daily time frame with only 27 trades within the three months.

The results for second and third placed robots were very close. They both used a similar uniform size stop loss for each trade of about 3o pips. They both traded the same currency combination but on a different time frame. Second placed robot completed 1,113 trades in both short and long directions and third placed robot only traded in one direction with 595 trades. As the 2nd place robot only had a profit target of 5 pips on every trade, he needed to trade alot more times than place getter number three.

At least now we know some of their secrets. We will have to get to work and try to figure out some highly accurate short target take profit strategies with uniform 30 pip stop loss on all trades. Maybe they are based on price breakouts? Or maybe price reversal moves? Time spent back testing different strategies along with a healthy imagination should reveal the answer. Or we could try and build a more traditional system based on the longer term statistics of the winners robot system?

Hope you have found this forex robot review helpful.

Consider building your own forex trading robot

Find out how to build your own forex trading robot for free. Information on metatrader.
Not enough time to build your own robot?

If you do not have enough time to build your own forex trading robot, there is always the option to purchase.

Forex Robot Reviews

At brainyforex we keep up-to-date with the performance statistics of the most popular automated forex trading systems by continually reviewing 'forex robot review sites' from all around the world. We do this to get a big picture of how different robots perform on different broker accounts and with different users. World's best trading systems.
We also test them here.
---
Return Home from Forex Robot Reviews