Forex Trendy - Brainyforex takes a look inside the members area

---
Forex Trendy is a trend and pattern recognition software service whereby members log into a web based platform which shows the best currency pairs to trade. Along with gold, silver & oil.

Once inside the members area, clients can change the settings to be notified of any or all time frame(s). Some traders may only want to be notified of the larger time frame trends or patterns like the daily or weekly or monthly, whereby other traders may be looking for trends and patterns on the lower time frames like the 1 minute, 5 minute, 15, or 30 minute charts. It's as simple as ticking boxes inside the settings tab. (See the members area below)
The layout of the members area is intuitive and simple.
It's important that clients read and understand the concepts coverered in the Forex Trendy Ebook called Understanding the myths of market trends and patterns to obtain the maximum benefits from the forex pattern recognition software scanner.
Inside the patterns tab, there are two sections. The first section shows the completed patterns, which are ready to be traded, while the second section shows the emerging patterns. It's great to see the patterns all referenced with details of currency, time frame, pattern name, long or short trade, breakout price and date of breakout. (scroll down the page to view).

Inside the members area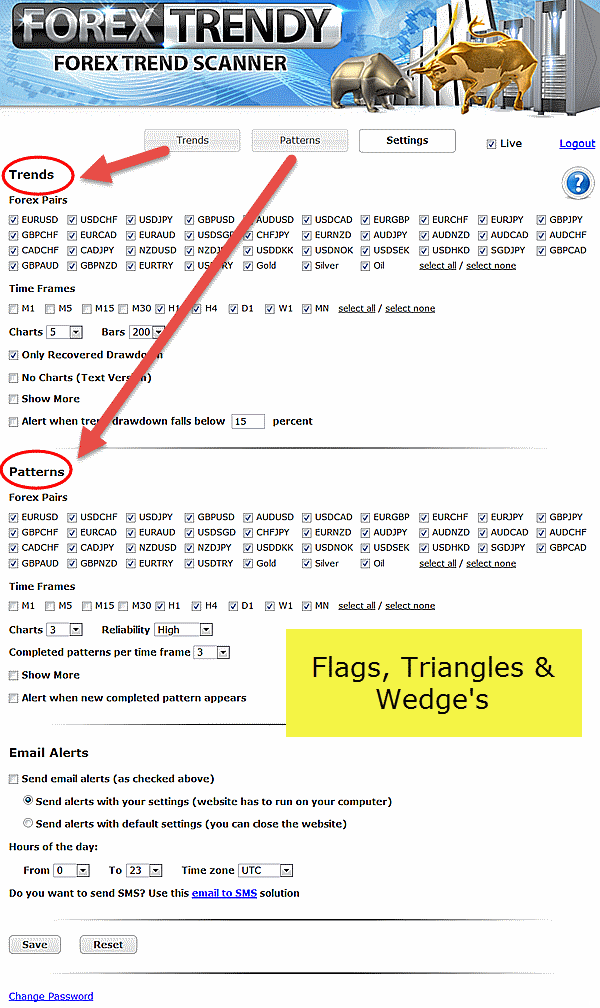 Inside the patterns tab


Clicking on any of the completed patterns details will bring up a visual chart as shown for USDCHF H1 above. 
Users can also choose their own preference for strength of the patterns. ie Highest, high, medium, low or lowest.
Having looked over the past completed patterns, there sure looks to have been some killer trading opportunities presented. I selected time frames greater and including the 1 hour, all currency pairs and "high" reliability.
You also can get a free, no cost test of the service by emailing client support asking for a 7 day free members access. (There is nothing to download as it's a web based platform).

The website is www.forextrendy.com
Public reviews here.

---