[Advertisement] Steve Nison's powerful training program will help you achieve amazing new heights in your trading and investing career.
Gann fan technique
by Simari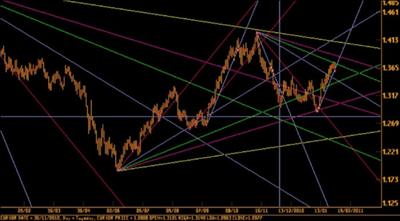 Gann Fan for Euro
On the chart you can see as I used a common and neutral angle factor. The important thing to say is that the same angle factor (in comparison with the price of the market studied) works well with all the markets analyzed, an not only Forex market. This is an universal factor.

This is a very useful guide to understand where the market is going, where to open position and close them, always keeping the risk under control.
Join in and write your own page! It's easy to do. How? Simply click here to return to Forex trading strategy articles.