Chart below shows Gartley pattern on GBPUSD 4 hour chart
16 November 2011
---
Gartley patterns in the markets were identified back in the 1920's. Within minutes of downloading the Elemental Trader MT4 plugin and opening the GBPUSD 4 hour currency chart, the software had identified a price pattern.

In the past it would have been way too complex and time consuming to try and find these pattern setups. Now the tables have changed and it's very easy to find them on any time frame one chooses to look.

The GBPUSD 4 hour chart below also identifies the Potential Reversal Zone. The software recommends a price and time window whereby it's expected for price to start reversing if the pattern is going to be valid. See the red box on the chart.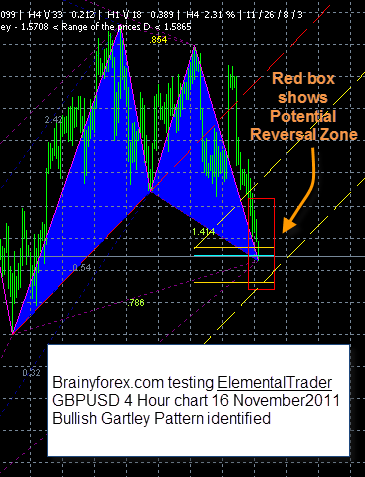 [ GBPUSD 4 hour chart 16 November 2011 showing the harmonic Gartley price pattern ]

As we are testing the Elemental Trader Software a follow up chart will follow shortly to show what happens next. So watch this space.

We look forward to you sharing your results with us over at the software review page.


From our updated 23 November 2011, GBPUSD 4 hour chart shown above a few days after the appearance of the Gartley pattern we see that the pattern no longer appears on our chart. We can say that this reversal pattern failed to provide a trading opportunity.

This is why it is important to seek a secondary confirmation before blindly just entering positions based upon their appearance on the charts.

Gartley patterns are not 100% accurate so we can expect to see failed patterns like this one.


Another day let test some more
Monday morning 28 November 2011, a bearish gartley pattern appeared on the 15 minute chart as shown below;

Current price when spotted on chart was 1.3290. With the morning opening gap we will attempt a reversal gap trade based on the strategy that gaps are usually filled in. I will not open a live trade, only a pretend one at 1.3290 price with a profit target of 1.3270. Our stop loss is the bearish candle high of 1.3310.

Let see what happens shortly below.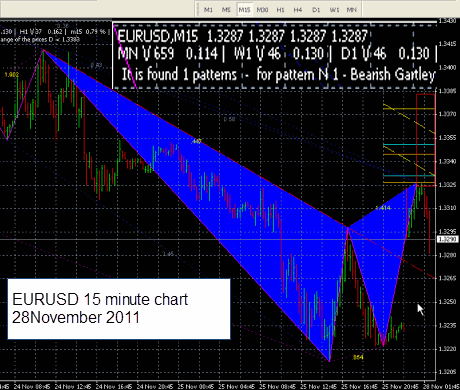 [ Above chart shows a bearish gartley pattern on EURUSD 15 minute chart morning of 28 November 2011 ]


Our pretent trade based on the 15 minute Gartley trade ended up being stopped out for a 20 pip loss.

Notice what happen when price reached the 61.8% retracement level shown below. (Range shown in green). We saw a huge drop in price of 46 pips within 15 minutes.

Using the 61.8% retracement level would have done the job for a short entry, along with waiting for price to move under the prior 1 hour price bar.

Even taking another short position on the 1.3287 as price falls under the next one hour price bar may prove successful.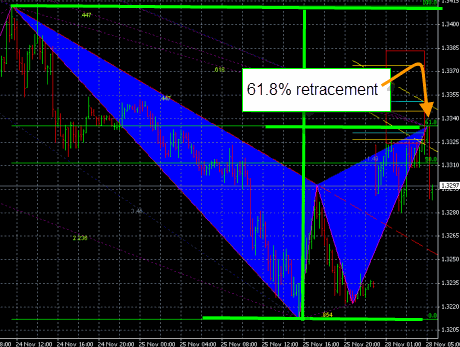 [Bearish gartley pattern 15 minute EURUSD 28 November 2011 along with 61.8% retracement ]


---
Return home from gartley pattern