[Advertisement] Steve Nison's powerful training program will help you achieve amazing new heights in your trading and investing career.
GBP/USD: Perfectly Within The Bands (well, almost)
by Himanshu Jain
(Tokyo)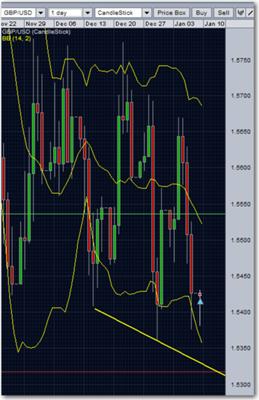 The Pounds-Dollar pair continued it's volatile sideways move below 1.5800 but with bearish configuration. The currency pair went as low as 1.5376 during the previous week before closing for the week at 1.5426.

Ichimoku Cloud: The last crossover of Tenkan-sen going below Kijun sen during the end of December can be considered a modestly strong bearish signal, considering that the crossover had taken place below the lower edge of the cloud. But the crossover itself was weak and not convincing. The price action since then is in volatile sideways mode on bothe sides of narrowly apart Tenkan and Kijun lines. Even with the recent volatile sideways moves, the continuous resistance just over the lower edge of the cloud and the recent bearish crossover make the bearish sentiments strong, even with the volatile sideways move, the configuration is bearish and any firm break below 1.5361 should break this range movement to make the currency pair move towards the earlier support of 1.5270 (October 6th, 2011).

As mentioned during the previous outlook update and quoted above, any move below 1.5269 will be a slow downward move with frequent corrections because of the upcoming strong psychological level of 1.5000.

On the upside GBPUSD has been finding resistance around 55-day EMA since mid-November and we expect that scenario to continue because of the overall bearish sentiments. Considering this till a strong break over 1.5700 (over 55-day EMA) takes place, our outlook will stay for deeper moves. Even with a break of 1.5700 we would expect the upper edge of daily Ichimoku cloud to bring a strong resistance neat 1.5770 and only a break of that will make us expect some convincing upward move towards 1.5900.

How will we Trade GBP/USD: As mentioned, overall outlook is bearish but GBPUSD has not been moving in a clear directional mode. The way this currency pair is moving makes Bollinger bands (on daily charts) is the right tool for taking trading positions. The pair has been trying to break below the lower band and then immediately has been jumping towards the upper band. We will be using the movement between the lower band and the middle band on daily charts for our trading.

Please share your trades at Forex forum
Return to Forex trader Himanshu.