IG and GFT Broker unable me to close my position due to difference in charts
IG and GFT Broker unable me to close my position due to difference in charts

(Poole Dorset England)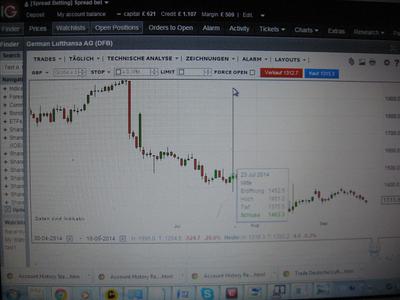 Dear Sir;
I have been trading on line with some stock brokers and I have no doubt to believe that I have been set up, my saving is disappearing, and its not by coincidence 98 % of my tickets always going opposite, its evident that they run against me.

I report to you IG broker and GFT dealbook. I have an open position with GFT in Lufthansa cfds. I noticed a high difference in price, between them:

On the 23 July 2014 on the IG Lufthansa chart the highest trading price was 1951.2 on the GFT platform Lufthansa chart was 14.690. Therefore GFT prevented me from closing my position at the highest quote.

On the 18 August 2014 on IG chart Lufthansa was trading on the highest at 1417.9.

On the 18 August on the GFT chart Lufthansa was trading at 12.970. This prevented me from closing my position.

I have many photos with me of those two Brokers the way they operate.

As I am trading with both of them I have lost a considerate amount of money for which I do now believe I have been used for their advantages.

I therefore report to you IG and GFT the way they operate.
Join in and write your own page! It's easy to do. How? Simply click here to return to Scam Alert Form.