[Advertisement] Steve Nison's powerful training program will help you achieve amazing new heights in your trading and investing career.
Forex Metatrader
Programming Coding

---
Forex metatrader programming coding services can be hard to find. Especially for currency traders looking for a good quality, reliable and cost effective solution.
You can now hire an expert to automate your trading strategy into a forex robot / expert advisor (EA), design sophisticated custom indicators, integrate Metatrader with third party software and external libraries, translate your trading system from other languages and migrate to Metatrader.

Brainyforex can assist traders with industry insights as well as public reviews.

If you would like to try and create your own EA robot then continue reading on the page below.
MetaTrader MT4 Programmers



---
Upwork - Hire independent programmers
Upwork lets you browse independent coding programmers. You have a lot of options from inviting selected freelancers to quote on your trading project. This can be an agreed fixed price or hourly rate. You can also post your job in the marketplace and wait for the proposals from programmers from around the world.
There are many positives with Upwork, not just choosing whom you want to work with, the fixed price but also that the fee is held in a trust account until the job is completed to your satisfaction. This is a bit safer than having to pay upfront for the project as with most coding companies out there.
Inside the login panel you will see a screen as follows; which allows for an advanced search where you start by typing in a term such as "mt4 programmer" and away you go. Upwork have their own public reviews for each independent programmer.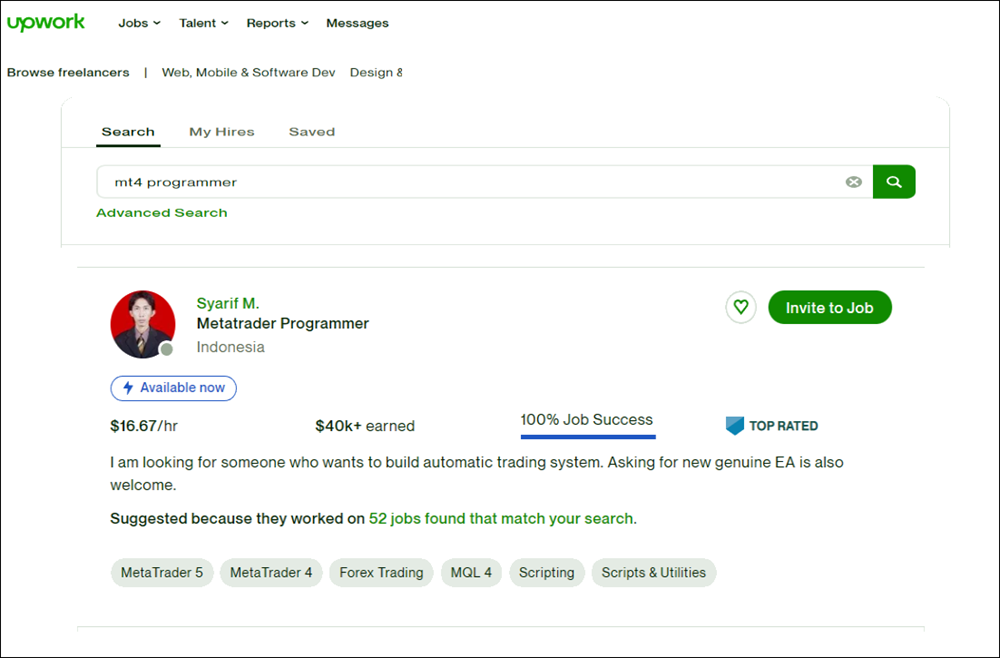 An example of a trading system coder specializing in Metatrader 4 & 5 working through Upwork.com
Other similar freelancer websites that offer coding services include;
https://www.peopleperhour.com/
---
Nordman Algorithms is a company of FinTech industry that specializes in Trading Algorithms development (Trading Robots) for Retail Investors, Traders, Trading Signals providers and Trading Analysts using the most popular charting/trading platforms such as MetaTrader, NinjaTrader, cTrader and TradingView.
Being a MetaTrader Expert, a NinjaTrader Vendor and a cTrader Consultant, with financial background, using excellent programming techniques, we develop automated trading systems of a splendid quality that serve our customers investing purpose for more than 10 years.
Our goal is to support you on all stages of the project: 
Analysing your request;
Sharing our expertise on key points of your trading strategy or data analysis methods;  
Development of efficient algorithm;  
Beta-testing;
Fine-tuning;
Optimization and back-test;  
Continuous support.
During years of experience we have worked on 1000+ of projects within the domain and for many of them you can check the reviews on our web-site: https://www.nordman-algorithms.com.
We will be glad to see you among our Clients list!
Public reviews shown here.

---
Emet-Trading-Solutions.com is a professional team of highly trained and experienced programmers focused on automated trading strategy coding.
The services are mostly for Traders and for Analysts selling their own trading strategies. Emet Trading Solutions develops auto trading systems for various platforms: NinjaTrader, MetaTrader (MT4/MT5), cTrader (cAlgo), TradeStation, MultiCharts, OEC Trader.
Emet Trading Solutions is certified by NinjaTrader and cTrader and turns customers' trading concepts into workable fully automated strategies and custom indicators with a personalized dedication and post-development support to each and every customer. Why are we the best? Please read our customer testimonials on our website.
https://emet-trading-solutions.com

Public reviews shown here.

---
Want to try and make your own forex robot?
StrategyQuant Algo Wizard

StrategyQuant Algo Wizard lets you build trading strategies in your browser in a visual way with no programming. Any market, any timeframe. Accurate backtests with high quality data. Export full source code to MT 4/5, Tradestation or Multicharts.

Easy to use and can save money by doing it yourself.

Website : https://algowizard.io/
(Disclosure : Brainyforex is affiliate of StrategyQuant - Check full range of StrategyQuant software and discount codes on this special page here).

NB : EA Wizard (former name) has been used by Brainyforex for several years and is very happy with the software and support via developer and their forum. Highly recommended product. Review page here.

---