Million Dollar Pips Forex Robot
Only owners get this information
MDP updates

---
These MDP updates are provided for Million Dollar Pips Forex Robot EA owners. This is an inside look so you can better understand the MDP robot if you are not already a owner.

Robot tested here at brainyforex [Trading Results]

Public reviews [MDP Reviews]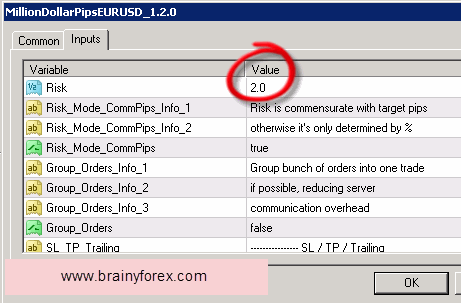 The above HUD display shows the money management setting used for testing at brainyforex. Two percent risk entered as 2.0.

Update sent out on 16 November 2011 by William Morrison creator and developer of MillionDollarPips.

Hi Fritz,

Thanks for being a loyal MDP customer.

Some people have been spreading false rumors and some people have just been worried in general about MDP continue to work forever.

First, I would like to establish that there is plenty of life left in MDP. The strategy still works and we are constantly monitoring it.

The execution times.. stop worrying so much about it. A good VPS and good broker is important. There are people doing well with 2000 m/s .. it's good to try to lower it, but don't think this is the main cause for disaster.

Also, MDP will NOT win all the time like any other strategy, it will have losing days / weeks.

This week / last week has been a little slow, but this is because we have flat markets and we are approaching holidays. This causes less trade opportunity especially for what MDP is looking for.

So just because it's going slow right now, does not mean the robot is failing. It means the market conditions are not right. And we need to be patient. Some market news may help. As spikes and volatility can help, but as we approach holidays markets may be flatter.

Please pass this to others.

Thanks for your support!

William Morrison
MillionDollarPips Team

Million Dollar Pips Team, 2167 East 21st Street, PMB 151, Brooklyn NY 11229
---
Return home from million dollar pips forex robot