[Advertisement] Steve Nison's powerful training program will help you achieve amazing new heights in your trading and investing career.
Technical Analysis EURUSD 5 November 2014
Technical Analysis EURUSD 5 November 2014
by IFC Markets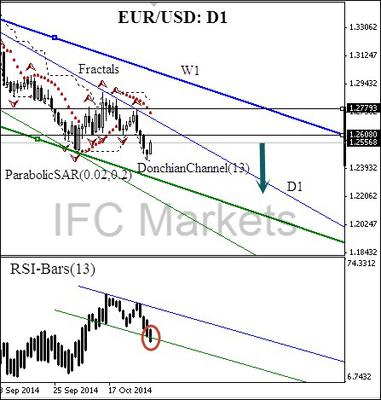 EUR/USD Daily chart 5 November 2014
Euro Slumps

Today we consider the EUR/USD currency pair on the D1 chart. 5 November 2014. At the moment the price is moving within the D1 downtrend channel: we can observe a slight retracement in the daily trend. The descending weekly channel also confirms the bearish trend significance.

We have all the confirmations of the price movement from trend indicators: Parabolic historical values are moving along the trend line, and the price touches the lower boundary of DonchianChannel. There is no contradiction on the part of RSI-Bars oscillator: the signal left the downtrend channel area and broke the resistance line downwards (marked in red ellipse on the chart).

That gives us an additional signal proving the current trend continuation. We expect the price retracement to be finished when it reaches the fractal resistance level at 1.26080. The current price mark can be used for instant execution order. Stop Loss is recommended to be placed at 1.27793, which is strengthened by the fractal peak and the intersection with the D1 trend line.

After position opening, Stop Loss is to be moved after the Parabolic values, near the next fractal high. Updating is enough to be done every day after a new Bill Williams fractal formation (5 candlesticks). Thus, we are changing the probable profit/loss ratio to the breakeven point.

Position Sell
Sell current mark
Stop loss above 1.27793

Daily Technical Analysis IFC Markets
Read previous posts by IFC Markets here

Return to IFC Markets Articles.