[Advertisement] Steve Nison's powerful training program will help you achieve amazing new heights in your trading and investing career.
Technical Analysis GBPUSD 23 October 2014
Technical Analysis GBPUSD 23 October 2014
by IFC Markets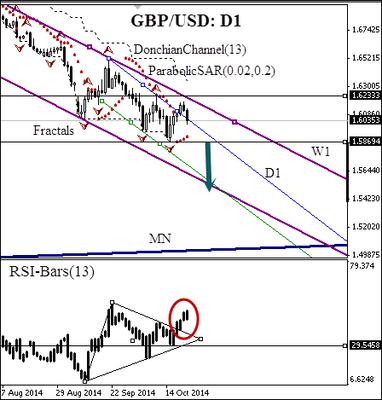 Daily chart GBP/USD 23 October 2014
Pending British pound

Today we consider the daily chart of GBP/USD currency pair. The price is going down within the daily and weekly downtrend channel. There was a breakout of the daily trend line, but we assume it to be false: at the moment the price went back to the trend line. The downtrend price movement is confirmed by the Donchian Channel bias.

Let us consider the RSI-Bars oscillator chart: we can observe that the triangle was formed. That means the market is waiting for further action and has not decided yet on the direction. The triangle top side was breached, and that gives us a warning about a possible change in the current price trend. In order to get an additional confirmatory bearish signal, we may wait for the oscillator level breakout at 29.5458%.

It will happen before Parabolic trend indicator gives us a signal by crossing the price level at 1.5869. This mark can be used for placing a pending sell order. It is reinforced with the Donchian Channel lower boundary, Parabolic historical values and Bill Williams fractal. Stop Loss is recommended to be placed at the high of 1.6233. Its significance is confirmed by the fractal and Parabolic values.

After position opening, Trailing Stop is to be moved after the Parabolic values, near the next fractal peak. Updating is enough to be done every day after a new Bill Williams fractal formation (5 candlesticks). Thus, we are changing the probable profit/loss ratio to the breakeven point.
Position Sell
Sell stop below 1.5869
Stop loss above 1.6233

Daily Technical Analysis by IFC Markets
Read previous articles by IFC Markets here
Return to IFC Markets Articles.