[Advertisement] Steve Nison's powerful training program will help you achieve amazing new heights in your trading and investing career.
Technical Analysis USDCAD 21 October 2014
Technical Analysis USDCAD 21 October 2014
by IFC Markets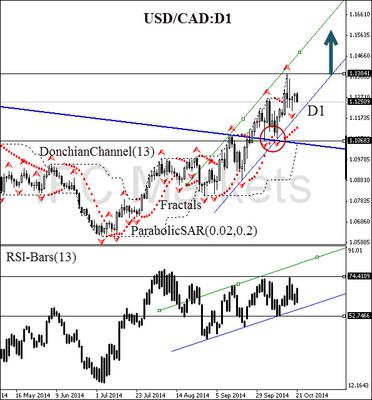 USD/CAD currency pair 21 October 2014 daily chart
Correct Reversal

Today we consider USD/CAD currency pair on the D1 chart. The price crossed the bearish trend line on the weekly chart and continued to move in the direction of the green zone: "correct reversal" was done (marked in red ellipse). A new support level at 1.10683 was confirmed by two Bill Williams fractals, so it can be used to place Stop Loss.

Moreover, this mark is strengthened by DonchianChannel historical values. The uptrend is confirmed by Parabolic, which moves along the D1 trend line. There is no contradiction on the part of the RSI-Bars oscillator: we expect the breach of a new resistance at 74.4109%. As may be supposed this breach will be preceded by the price level crossing at 1.13841. This mark can be used for placing a pending buy order.

After position opening, Trailing Stop is to be moved after the Parabolic values, near the next fractal trough. Updating is enough to be done every day after the formation of 5 new H4 candlesticks, needed for the Bill Williams fractal formation. Thus, we are changing the probable profit/loss ratio to the breakeven point.

Position Buy
Buy stop above 1.13841
Stop loss below 1.10683

Daily Technical Analysis by IFC Markets
Read previous articles by IFC Markets here
Return to IFC Markets Articles.