[Advertisement] Steve Nison's powerful training program will help you achieve amazing new heights in your trading and investing career.
Technical Analysis USDJPY 22 October 2014
Technical Analysis USDJPY 22 October 2014
by IFC Markets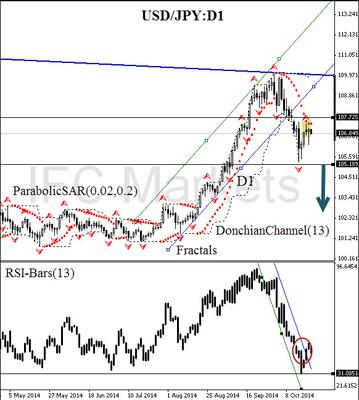 USD/JPY currency pair daily chart 22 October 2014
Japanese yen choosing way

Today we consider the USD/JPY currency pair on the D1 chart. The price made a reversal, touching the strong W1 resistance line. The daily uptrend channel is breached in the direction of the red zone, and now we have every reason to believe that a new bearish D1 trend is emerging. Parabolic confirms the trend direction and moves along the DonchianChannel lower boundary, verifying the price direction. The only alarming signal can be seen at the moment is the breach of RSI-Bars resistance line, which may be proved false. To confirm the bearish sentiment, you should wait for the oscillator level crossing at 31.0851%.

This event is expected to happen before the fractal support breach at 105.189. This mark is strengthened by DonchianChannel lower boundary and can be used for placing a pending sell order. Stop Loss can be placed at 107.725 or 109.971 (for conservative traders). It should be noted that the importance of the last fractal peak is confirmed by the Parabolic historical value, and also the bearish candlestick pattern "shooting star", which is marked in yellow on the chart.

After position opening, Trailing Stop is to be moved after the Parabolic values, near the next fractal peak. Updating is enough to be done every day after the formation of 5 new candlesticks, needed for the Bill Williams fractal formation. Thus, we are changing the probable profit/loss ratio to the breakeven point.

Position Sell
Sell stop below 105.189
Stop loss above 107.725

Daily Technical Analysis by IFC Markets

Read previous articles by IFC Markets here
Return to IFC Markets Articles.