A closer look at the Thor System AKA
Forex Thor 11 or Thor Forex 11
---
Sorry - Forex Thor is no longer available

The Thor System also known as Forex Thor 11 or Thor Forex 11 is a unique and highly advanced automated trading system / EA forex robot that buys and sells the EUR/USD currency pair based upon market depth data. It uses the 30 minute time frame.

Brainyforex has setup the robot and is showing trading results through an Australian forex broker called SynergyFX (ECN account) and also real money account through FinFX. (This account is Non-ECN) The results can be found on this page here.

Public reviews can be made and read here.
The advanced safety features include broker protection along with a HUD display on the Metatrader platform indicating if anything requires attention. A snapshot is shown below. For any issues the system will not only display what's wrong but also verbally says it.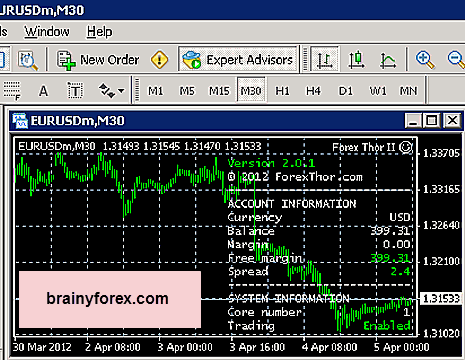 Forex Thor Metatrader (MT4) Display based upon FinFX non-ecn account
HUD display for Forex Thor EA as shown in Metatrader

The settings for all three cores are shown above.

Money management risk per trade used is two percent 0.02

So far the Thor system has been trading profitably and we shall see with keen interest if it performs as advertised.

First impressions of Forex Thor have been very good ... The maths behind the system, it's trading strategy, it's easy installation. A very professional package.

After purchase clients are directed to the membership area as shown below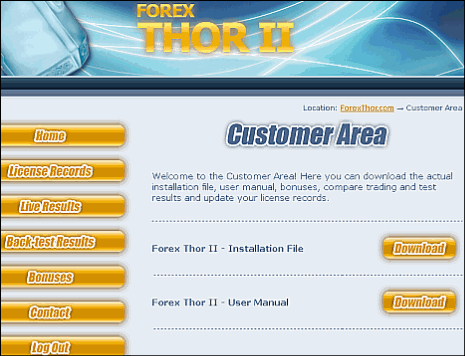 For those interested in looking further at this system a few interesting excerpts from the user manual are shown below.

What are the three (3) core numbers of this system?
Core Number
It allows you to choose which trading core should be active (1-3). Each trading core operates independently from each other.

Core 1 is the most profitable core because this core uses the most aggressive settings. Core 2 uses less aggressive settings what results in fewer trades and higher win rate. Core 3 uses very conservative settings and trades only sure bets."

If you want to use multiple cores (recommend for max. Returns), keep in mind that every core needs to run on a separate chart.

Aggressive
Here you can enable/disable the aggressive mode (true/false.) If it is set to true, the system will use more aggressive settings for Core 1 resulting in more trades, higher profits but also slightly higher draw downs.

Money Management Enabled
Here, you can enable/disable the built-in money management module. In case you disable the module, the system will trade with fixed lots. When it is enabled the lot size will be cal-culated based on the available free margin and the chosen risk per trade. (MoneyManagement.RiskPerTrade)

Money Management - Risk per trade
It allows you to adjust the risk per trade. Example: 0.02 (max 2% risk per trade), 0.03 (max 3% risk per trade). Note: the Thor trading system uses flexible stops. That means that the stop loss value changes automatically with the market conditions. For example: during flat market condi-tions (low volatility), stop loss levels will be very tight while larger stop levels will be used during high volatile market conditions.

Fixed Lot Size
Here you can specify the lot size for orders when you disable the money management module.

Max Spread in Pips
Here, you can specify the max. accepted spread. In case the spread goes above the speci-fied value, the Thor trading system will disable trading temporarily. Note: the input value should be: Typical spread from your broker + 1 pip.

Order Slippage
The max. accepted slippage (also known as price deviation). In case your broker sends a re-quote, and the deviation is above the max accepted value, the Thor trading system will cancel the order. Recommend input value: 1, max. 2 pips.

Order Comment
It allows you to add an order comment. It is very helpful to identify trades in case you run multiple Experts Advisors on your trading account.

Order Magic Number
Here you can add a magic number. Magic numbers are used to identify trades. Note: Thor stores all trade information in its own virtual memory. Therefore, it is not required to use a magic number. 0 is the magic number which is used for manual trades. When you change it, the broker can identify the system as a robot. As long as you don't change it and don't add an order comment, your broker cannot identify the system as a robot.

For more features refer to the user manual.

Quick information from Alex Collins the creator

Thor Forex is a 100% automated forex trading system, which is truly revolutionary. We spent almost 6figures during the developing process, and the result is a cutting-edge forex system with excellent risk reward ratio (1:3) and high profitability. Its algorithms use the same analytic methods quants uses to bank big independently from the market conditions. At the same time, Forex Thor is very easy to use.

Installation and configuration require only minutes, and the built in voice system ensure that even traders with little or no forex trading can use the system successfully. Full support (E-Mail, Chat, Remote Connection and Phone) is provided as well.

And as this wouldn't be enough, we back it up with a complete "air tight" guarantee what takes all risk away from the client shoulders. We offer a free trial version of the Thor System.

---
Return home from the thor system