[Advertisement] Steve Nison's powerful training program will help you achieve amazing new heights in your trading and investing career.
USD/CHF Outlook
by Himanshu Jain
(Tokyo)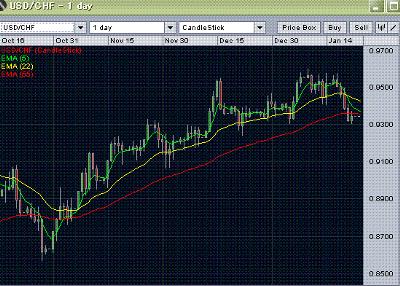 January 23, 2012: USD/CHF had broken the support of 0.9400 and went as low as 0.9307 (little below the next support level) and closed at 0.9345 for the last week. The recent low was just above January 4th's low.

This was the first time since November 6th that USDCHF broke below the 55-day EMA level. On one side this price action makes the short-term outlook a bit negative even though the overall outlook stays bullish and we consider the recent move just as a correction/consolidation but the fact that the currency pair did not break below Jan 6th's low of 0.9305 raises the question about further downward move. To expect further downward consolidation a break of 0.9305/0.9300 is required. On the downside if a strong break below 0.9305/0.9300 takes place then we would expect a good support in the range of 0.9200/0.9240. A move to 0.9200 will only be considered as the Fibonacci 38.2% retracement of the slow upward move during October 27th, 2011 to January 8th, 2012.

On the upside any strong break over 0.9410 and then a minor resistance near 0.9445 should make USDCHF to resume the upward move to retest 0.9596 and with a break over 0.9600, we would look forward to a move towards 0.9780, which represents the strong resistance during January 11th to February 11th, 2011. Any firm break over that should take the currency pair towards 0.9916 which represents, not only the strong resistance of December 8th, 2010 but will also start bringing in the psychological resistance of 1.0000 or parity.

The above outlook will stay good as long as USDCHF does not break below 0.9200. Such a break would start making our short-term outlook bearish to expect some more downward move towards the 0.9065/0.9090 level and then possibly towards 0.8965.

You may also check daily technical analysis of usd/chf and the weekend usdchf forecast at ForexAbode.com

Return to Forex trader Himanshu.