How to read
candle chart correctly

---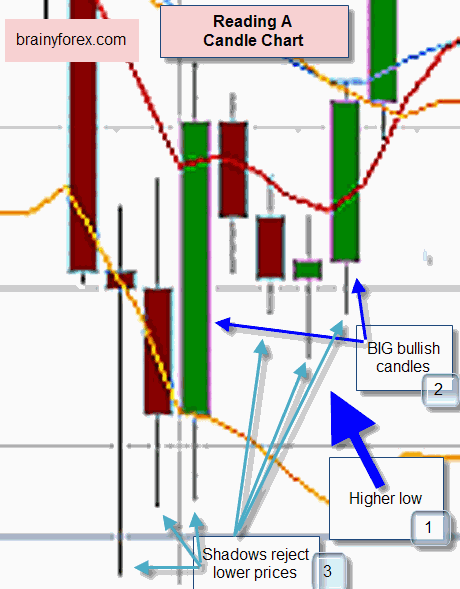 A popular question that many traders ask when looking at a candle chart is; What candlesticks work the best?
The answer is not that simple. There is no one or two candlestick patterns that can be used without looking at other factors on the chart.
The idea is to get a feel for the psychology behind the price action first and then consider how the candles can help to determine market direction.

Take for example the candle chart show above. Lets read the chart based on the three items mentioned.

Number 1. Consider price pattern and time.

We see that as time progresses a higher low is made. This is also known as a pull back in price. Or we can even consider it as a second wave in either a zig zag formation or a impulse wave. Which ever way we look at it we know that it is a bullish sign indicating a high possibility of prices moving higher.

We also notice that by counting the number of red bearish candles as compared to the green bullish candles that it has taken more time for the bears to prevail than the bulls. In other words it does not take long for price to move back up once it is pushed lower.

Number 2. Consider candlestick size.

Take a look at the time frame we are considering on the chart and look at how LARGE the green bullish candles are compared to the red down candles. This shows that bulls are biding up the price and are keen to buy. Price has a good chance of increasing, especially when increasing volume is associated with these bullish sessions.

Number 3. Consider candle shadows.

As shown on the chart we notice a lot of candlestick shadows, whereby price has moved lower only to be pushed back up within that particular time period. This shows that the buyers are keen to purchase when price reaches a certain low level. Hungry buyers, without enough sellers means that price will have a good chance of increasing yet further.

Summary

Points one, two and three are the main essentials in reading a candle chart. Once a trader understands these three points and applies this understanding when reading charts it is all down hill from here. It is now easy.

A trader does not need to know if the price pattern falls into the definition of a morning star pattern, morning doji star or abandoned baby. The trader knows straight away the significance of a bearish candlestick, followed by a doji (open and close the same), followed by a bullish candlestick. It means there could be a reversal SUBJECT TO points 1, 2 and 3 discussed.

To continue reading about the underlying basics to candlestick patterns go here.
---