[Advertisement] Steve Nison's powerful training program will help you achieve amazing new heights in your trading and investing career.
EUR/USD Outlook
by Himanshu
(Tokyo)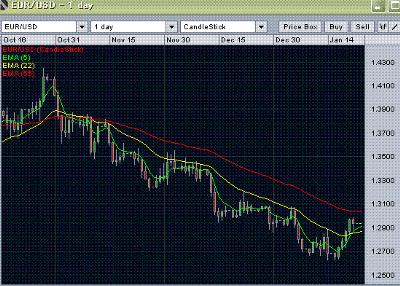 January 23rd, 2012: EUR/USD had touched 1.2624 last to last week but found a strong support at 1.2626 last week and jumped up. It touched 1.2986 and found some resistance there. The break of 1.2880 resistance makes the short-term outlook neutral, even though the overall outlook stays bearish for EURUSD.

On the upside, if a break takes over 1.2986 then we would expect EURUSD to have some more upward correction towards the resistance zone of 1.3030 to 1.3080. This resistance zone comes into picture as 1.3030 represents the 55-day EMA and since end of November, 2011, the currency pair has not been able to break above it. 1.3006 to 1.3045 level would also bring the resistance of lower edge of the daily Ichimoku cloud. Over these levels, 1.3070 to 1.3083 represents a strong resistance zone during December 25th to January 4th.

In case EURUSD breaks over 1.2986 and then the above mentioned resistance zone then we would expect some more upward correction towards 1.3230/1.3050. This zone would represent the resistance zone of Fibonacci 38.2% retracement of the downward move from October 27th to the recent bottom of January 15th. As we have mentioned that overall we stay bearish and are taking the current move only as correction/consolidation, we expect a fall from either of the above mentioned resistance levels. On the downside, we would expect some minor support in the range of 1.2810 to 1.2840. This support is based on the 22-day EMA as well as daily Ichimoku cloud's Tenkan and Kijun-Sen level supports. A firm break of this support zone should take the euro-dollar pair to retest the recent 1.2626/1.2624 bottom.

This is not for the next week but overall, any break below 1.2624/1.2620 should take the currency pair to 1.2520. As mentioned last weekend, please note that we expect a slower downward momentum as the currency pair nears 1.2500 and we do not expect a break below that very fast but overall a strong break below 1.2500 should bring supports near 1.2460 and then 1.2420 and then the next target should be 1.2355. The recent support over 1.2620 was such an example. The psychological effect of 1.2500 had already started working there.

You may also check daily technical analysis of eur/usd and the weekend eurusd forecast at ForexAbode.com.

Return to Forex trader Himanshu.