Fap Turbo Review and Assistance for Owners
---
Fap Turbo Expert Advisor is marketed as "The First Real Money Forex Trading Robot" and "Automated Forex Trading on Autopilot".
The question is does it work? Does it make you money on autopilot?
To check out feedback from the public, brainyforex now has a section specifically devoted to independent public reviews for this robot. Independent public reviews go here.
After being sold on the market for two years, about eighty five thousand people have purchased this expert advisor.

Maybe you are one of them? And wondering, why is this EA not working out for me?

The first point to understand is that your selection of broker to run this robot or other robots you own or acquire in the future is very important.

Different brokers different results

Forex brokers need to work with you not against you, especially when you are running an automated robot that has the potential to make losses for your broker. The secret is now out that a lot of brokers take the opposite side of your trades. Yes, they trade against you! You make a profit - they make a loss! Are they going to be happy with this arrangement? Read more about choosing a broker here.
There are some brokers that will not allow certain profitable robots being used. Yes, they ban them! Especially extreme short term scalpers. If their policy of banning them puts them in the spot-light maybe they will do other sneakier strategies that nobody knows about? "Sure... you can trade with this robot" ... but we will slow you down some other way? If they are not on your side who really knows what they are capable of doing to prevent your robot from beating them?

Brokers who "widen spreads" on scalping robot's can turn a profitable robot system into an unprofitable one.

When using any scalping robot, spreads need to be a low as possible.

That means it is in your best interests to select a broker that offers competitive spreads and preferably does not make money from your losing trades. A broker with "no dealing desk" and "straight through processing" (STP) or ECN goes a long way to avoid conflict of interest temptations.

Virtual Private Server

For the automated robot to work properly the robot must run without interruption. Some VPS services are not forex savvy, which means they may re-boot the system each day thereby causing problems for the automated robot if this happens when a trade is initiated or in progress.

It is also recommended to "Disable Automatic Updates" : Automatic updates for windows may restart your VPS automatically and close your running trading platforms. So for a trading station it is wise to disable these automatic updates. To do this : for windows 2003 or newer : Right click on My Computer -> Properties -> Automatic Updates -> Choose OFF -> Click on OK.

Find out which are the popular VPS companies that most forex traders use here.

Check the manual for recommended trading times and updates.

Depending on the settings you use to run Fapturbo, whether short term or longer term strategies it is important to follow the advise as to when the robot should be turned off and not allowed to trade. With some strategies the system will not be able to cope successfully with high volatility / reduced liquidity / widened spreads. These things occur during trading sessions near holidays or prior to major economic news data releases.

FAP Turbo is a scalping system that looks for stable sideways movement (non-trending) market conditions which happen in the late session between about 19 GMT and 01 GMT. (Asian Session).

What-ever robot you trade make sure you know which days or times you need to turn your automated robot off temporarily so as to prevent it from executing trades. Or under the settings, disable trading for certain days of the week. With FAP Turbo, the system developers recommend that you avoid trading on Mondays. The best results are achieved on Wednesdays. What about only trading FAP Turbo on Wednesdays?

Also, certain months of the year will produce better results than others. Fap Turbo has performed well during November and December. Keep up to date with these seasonal factors.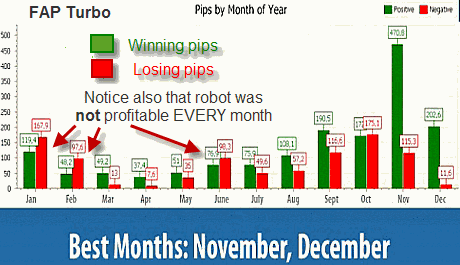 Correct setup with default settings

The FAP Turbo developers trade the robot with the default settings as advised in the manual. It is imperative that you check the setup of your robot to ensure it is as 'should be'.

An updated thought by Steve C. one of the developers in his second anniversary fap-turbo video address to it 85,000 customer base Steve suggested that as the customer base has now grown so large it may prove beneficial to make minor adjustments to the 'default settings'. His logic was that with 85,000 users trying to enter a position at the same time this could adversely affect the order execution / fill process of some orders. Hence, get your robot to trade a little outside of the window in which everyone else is trading.

Trade only the designated currency pairs that are approved for the robot. Keep up to date with the developers recommendations on a monthly basis. Each month may require a change in currency pair. Stay in touch with head office.

The developers have noticed that some users watch as the robot trades and then for some reason 'manually override' the settings. Yes, some people manually close live positions when they should not. Don't let this happen to you. Let the robot do its job. The solution is to trade with an amount of money that you are comfortable with. Comfortable to leave the system to trade by itself. WD Gann whom was one of the greatest traders of all time, said that the 'human element' was the main problem stopping traders from achieving success. Read more.
I believe these above issues are the main reasons why there is so much difference of opinion as to results achieved by automated trading systems.

Of course, setting can be further optimized by users to create even better trading results. 

Professional Review Sites

What do the professional review sites have to say about Fap Turbo?

The review sites whom will call "a dog of a trading system" "a dog" get my attention. I know that they will not fabricate trading statements as their reputation is on the line if they are caught out.

The results coming from the review sites that have set up and operate the software as recommended is that Fap Turbo does indeed work!

However, the profits are NOT double (100%) each month as the developers claim on their website. Reviewers are getting closer to about 5% monthly profit.

Brainyforex tests automated forex trading systems here.
---