[Advertisement] Steve Nison's powerful training program will help you achieve amazing new heights in your trading and investing career.
Forex Weekly Outlook AUDUSD
by Himanshu Jain
(Tokyo)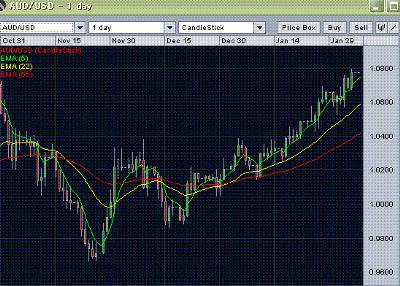 AUD/USD
Last week AUD/USD moved up, as mentioned during the last weekend and quoted above, and went as high as 1.0794 and closed for the week at 1.0770. The break over 1.0765 was a significant move as it marked the break of very strong resistances faced on September 1st, 2011 and October 27th, 2011. Both of these previous resistances had brought a very strong fall for AUDUSD.

The overall outlook stays bullish for AUD/USD and if there is no break below 1.0565 then we would expect the upward move to continue first towards 1.1000 resistance and with a break over 1.1000, further towards 1.1079 high.

Please note that the above outlook will stay if the currency pair does not break below 1.0565/1.0560. Any break of this support zone would represent the break below the support zone of the previous week as well as the break below 22-day EMA resistance. When we are saying the support of the last week, we are ignoring one day's move to 1.0526. Such a move will make our short-term outlook neutral and any firm break below 1.0526/1.0525 will make us expect further downward move towards 1.0420/1.0400 i.e. towards the 55-day EMA support. Please note that 1.0525/1.0526 does not only represents the bottom of the last week and hence an expected support but also the support of Kijun-sen of the daily Ichimoku cloud of AUDUSD.

Overall we stay bullish for AUDUSD and will be expecting a move towards 1.1000 if the support levels mentioned above hold good.

You may also check the weekly aud usd forecast and daily aud/usd analysis at ForexAbode.and also share and check analysis, forex trading alerts and real time trading positions at forex forums.
Return to Forex trader Himanshu.