[Advertisement] Steve Nison's powerful training program will help you achieve amazing new heights in your trading and investing career.
Forex Weekly Outlook EURUSD
by Himanshu Jain
(Tokyo)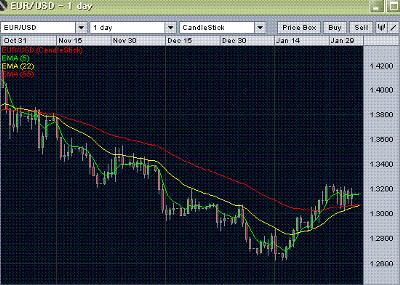 EUR/USD
Last week EUR/USD could not break above the 1.3233 level and went into sideways mode between 1.3233 and 1.3026. Please note that 1.3233 is approximately the Fibonacci 38.2% retracement of the downward move from October 27th to the recent bottom of January 15th.

Initially for the coming week we will stay neutral till a break over 1.3233 and then 1.3260 does not take place, as we had also mentioned during last weekend and quoted above.

On the upside a firm break above over the Fibonacci 38.2% retracement, as mentioned above and then 1.3260 should take EURUSD towards the resistance zone of 1.3430 to 1.3485 resistance zone. Please note that 1.3434 represents the Fibonacci 50% retracement of the above mentioned move. Not only that but the range of 1.3430 to 1.3550 had proved to be a very strong resistance zone during November 30th to December 9th, 2011. The psychological resistance of 1.3500 would also come into picture at those levels. However a break above this will bring up the possibilities of a test to 1.3620.

On the downside we need to watch for a break first below the last week's low of 1.3026 but more importantly 1.3020 and 1.3000. The break of 1.3000 psychological support should bring further downward moves. Below 1.3000 some support should come near 1.2960. A firm break of these support levels and then 1.2930 should take the euro-dollar pair to retest the recent 1.2626/1.2624 bottom. Some of the support levels are EURUSD daily Ichimoku cloud's Kijun-sen 1.2932 and then the support of the lower edge of the cloud i.e. 1.2803.

You may also check the weekly eur usd forecast and daily eur/usd analysis at ForexAbode.

Return to Forex trader Himanshu.