[Advertisement] Steve Nison's powerful training program will help you achieve amazing new heights in your trading and investing career.
Forex Weekly Outlook GBPUSD
by Himanshu Jain
(Tokyo)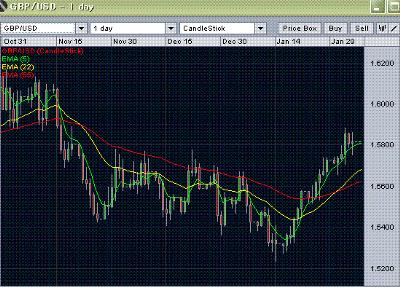 GBP/USD
Last week GBP/USD moved the way we had indicated during last weekend (quoted above). GBPUSD moved as high as 1.5883 or 3 pips above what we had mentioned (1.5880) and found some resistance there and closed for the week at 1.5814. 1.5883 resistance was just below the resistance of November 18th and is an important point to note that the pair did not break this previous resistance.

For the next week, if 1.5880/1.5885 resistance holds then we would expect some sideways movement initially. Overall the sentiments are bullish for the short-term but we will wait for a firm break over 1.5885 to expect further upward move.

On the upside if GBP/USD breaks strongly over 1.5885 then we would expect a minor resistance near 1.5935/1.5940 and above that near 1.5980 because of the approaching 1.6000 psychological resistance level.

On the downside we would expect some support near 1.5705. Any firm break below this should take the currency pair towards 1.5640/1.5650. This range was a support during January 27th to January 30th and a break of that will not only represent the break of this support but a good break below 22-day EMA. Please note that even if such downward move takes place, we would expect frequent support below that i.e. near 1.5615/1.5625 (55-day EMA as well as the support range during January 22nd to 25th) and the 1.5575 or the Kijun-sen level of daily Ichimoku cloud. These supports are also important because of the approaching psychological level of 1.5500 range.

Please note that overall we expect a slower move on either side. GBP/USD is approaching a resistance zone and even with the recent upward move, the overall bearish sentiments and outlook have not changed. There is no change on our overall bearish outlook as yet and that will only change with any firm break first over 1.6000 and then finally over 1.6165.

On the down side a break below 1.5516 will turn our focus back towards downside towards first 1.5400 support and then to retest the recent 1.5279 and then 1.5233. A firm break below this and the minor support of 1.5220 should take the GBPUSD towards 1.5160. The psychological support of the approaching 1.5000 ranges should gain strength from this level.

You may also check the weekly gbp usd forecast and daily gbp/usd analysis at ForexAbode.
Return to Forex trader Himanshu.