[Advertisement] Steve Nison's powerful training program will help you achieve amazing new heights in your trading and investing career.
Forex Weekly Outlook USDJPY
by Himanshu Jain
(Tokyo)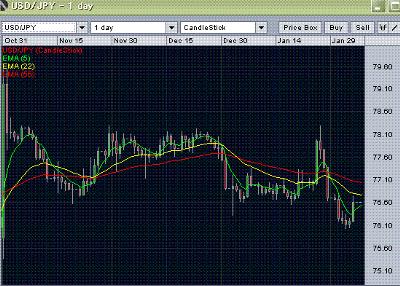 EUR/USD
Last week USD/JPY move the way we had indicated during last weekend (quoted above). Some support came at 76.32 i.e. a little below the first support level mentioned by us and then 76.26 and then 3 pips above 76.00 i.e. the third support mentioned by us. USDJPY took a jump from 76.03 and went up to 76.74 and then went into a sideways mode. The upward jump was expected because of the approaching psychological level of 75.00 ranges but was also fueled by quite good employment reports from US including the nonfarm payrolls.

Initially for the next week we stay neutral for the currency pair. On the upside if a break takes over 76.80 then we will expect some further upward correction towards 77.05 or even 77.16. 76.80 break will represent the break over the last week's high as well as 22-day EMA resistance. 77.05 would represent the 55-day EMA resistance and 77.16 would represent USDJPY's daily Ichimoku cloud's Kijun-sen level resistance. Please also note that just above 77.16 the stronger resistance of the upper edge of the daily Ichimoku cloud is at 77.26.

On the upside, while we will be looking for the above mentioned resistances, we will only expected some convincing upward correction only if USD/JPY breaks above 77.40. In that case the currency pair may try to retest of the resent 78.28.

On the downside we will again expect supports at the same levels mentioned during last weekend i.e. 76.40, 76.20 and 76.00 because of the upcoming psychological level of 75.00 ranges. Overall on the downside a strong break below 75.80 and some sustained action below 75.80 would make us expect deeper movements.

You may also check the weekly usd jpy forecast and daily usd/jpy analysis at ForexAbode
Return to Forex trader Himanshu.