[Advertisement] Steve Nison's powerful training program will help you achieve amazing new heights in your trading and investing career.
GBP/JPY Forecast Jan 29 2012
by Himanshu Jain
(Tokyo)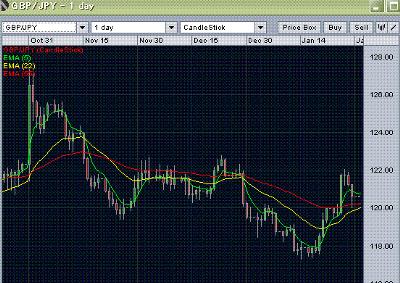 gbp jpy forecast- daily chart
GBP/JPY mover the way as we indicated during last weekend and quoted above. The currency pair moved as high at 122.05 and found some resistance there. As we had mentioned during last weekend (quoted above) that we expected a very strong resistance zone between 121.80 and 122.80. The resistance took GBPJPY down towards 120.00 but a support came just above 120.00 to close the price for the week at 120.62.

As mentioned above that the range between 121.80 to 122.80 had proved to be an extremely strong resistance zone during November 2011 end to December 2011 end and we expect this range to have an strong resistance now also and only a break over 122.80 will make us expect any convincing upward gains towards the psychological resistance of 125.00 level.

During the next week, though we do not ignore the possibilities of some more upward gains but initially we will stay neutral. We will watch for the breaks above the recent resistance of 122.05 and then 122.20 to expect further gains as mentioned above. Also on the downward side we shall keep an eye for any firm break below 120.00 to expect a move towards a minor support near 119.45. Any break below 119.45 and then 119.20 will change our focus back towards downside for a retest of the recent low of 117.28. Please note that a break below 120.00 will be a break below both 22-day and 55-day EMA as well as the support of the slopping down upper edge of the daily Ichimoku cloud.

You may also check daily technical gbp jpy analysis and the weekend gbpjpy forecast at our partner forex trading site.
Return to Forex trader Himanshu.