[Advertisement] Steve Nison's powerful training program will help you achieve amazing new heights in your trading and investing career.
Technical Analysis USDCAD 16 October 2014
Technical Analysis USDCAD 16 October 2014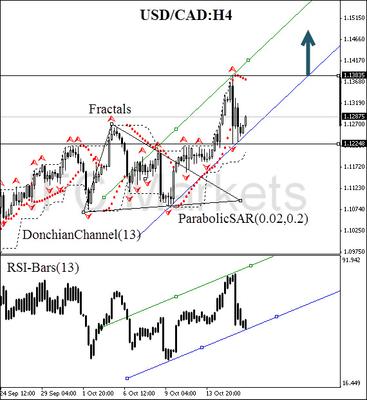 USD/CAD currency pair H4 chart
Loonie waiting for news

Today at 14:30 CET we expect the release of two macroeconomic indicators of the USA and Canada: Unemployment Claims and Manufacturing sales. The first index is based on data collected by the US Ministry of Labor and published in a weekly report. It allows estimating the domestic demand dynamics and the potential consumer lending for the US economy stimulation. However, long-term investors will be more interested in Canadian statistics on production data, which is collected during the past month. The indicator values allow predicting the trends of employment and consumer spending. Sales growth is certainly attractive for long-term investors, and it can have a significant impact on the currency market.

Here we consider the USD/CAD currency pair on the H4 chart. The price broke the upper triangle side and the strong resistance located at 1.12248. At the moment, we can observe a price retracement, but we expect the price to grow further within the trend channel. The trend direction is confirmed by DonchianChannel and the RSI-Bars oscillator chart. In order to get a signal from Parabolic trend indicator, it is recommended to wait for the fractal resistance breach at 1.13835, followed by the indicator reversal in the direction of the green zone. This mark can be used for placing a pending buy order. Stop Loss is to be placed near the trend line, at the level of the fractal support at 1.12248. The lower DonchianChannel boundary will most likely confirm the risk border.

After position opening, Trailing Stop is to be moved after the Parabolic values, near the next fractal low. Updating is enough to be done every day after the formation of 5 new H4 candlesticks, needed for the Bill Williams fractal formation. Thus, we are changing the probable profit/loss ratio to the breakeven point.
Position Buy
Buy stop above 1.13835
Stop loss below 1.12248

Daily Technical Analysis by IFC Markets
Read previous articles by IFC Markets here


Return to IFC Markets Articles.