[Advertisement] Steve Nison's powerful training program will help you achieve amazing new heights in your trading and investing career.
Technical Analysis USDCAD 17 October 2014
Technical Analysis USDCAD 17 October 2014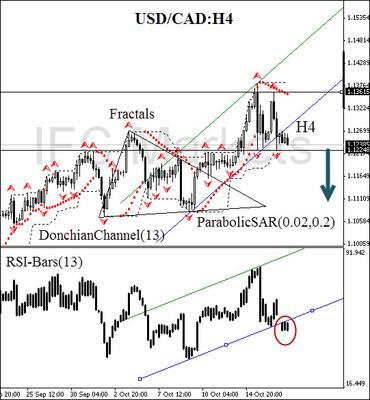 USD/CAD currency pair H4 chart
Unforeseen reversal

Today at 14:30 CET we expect the release of two macroeconomic indicators: Building Permits, USA and Core CPI, Canada. The first index expresses the number of new housing building permits issued by the government last month. It allows assessing the real estate potential growth, and also secondary demand goods and technology sector. Positive data permits expecting a momentum for domestic consumption and production in the USA. The second indicator shows the change in prices of goods and services in Canada with the exception of the most volatile components: food and energy. The Core CPI defines inflation rate which affects the Bank of Canada monetary policy. The CPI release may lead to a significant boost of the Canadian dollar against its most liquid competitors, including the US dollar. Both indices are expressed on a monthly basis and influence considerably the investment expectations.

Today we consider again the USD/CAD currency pair on the H4 chart. The price broke the H4 trend line downward: it is the first bearish signal. It should be pointed out that RSI-Bars oscillator also broke the trend line in the direction of the red zone, forming a gap. ParabolicSAR confirms the investor sentiment change. And the last confirming sign that we need is the Donchian Channel bias reversal, which is possibly expected to happen after the fractal support breach at 1.12248. This mark can be used for placing a pending sell order. Stop loss is to be placed at 1.13615. This resistance is confirmed by the fractal and Parabolic historical values.

After position opening, Trailing Stop is to be moved after the Parabolic values, near the next fractal peak. Updating is enough to be done every day after the formation of 5 new H4 candlesticks, needed for the Bill Williams fractal formation. Thus, we are changing the probable profit/loss ratio to the breakeven point.
Position Sell
Sell stop below 1.12248
Stop loss above 1.13615

Daily Technical Analysis by IFC Markets
Read previous articles by IFC Markets here
Return to IFC Markets Articles.