[Advertisement] Steve Nison's powerful training program will help you achieve amazing new heights in your trading and investing career.
Technical Analysis USDCHF 20 October 2014
Technical Analysis USDCHF 20 October 2014
by IFC Markets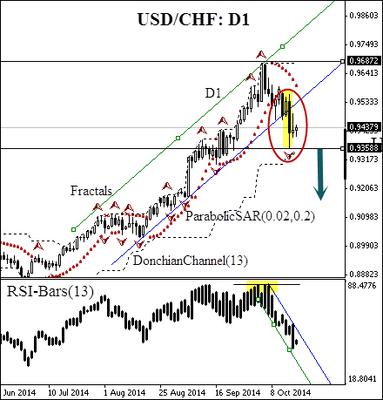 USD/CHF currency pair daily chart 20 October 2014
Bearish sentiment

Today we consider the USD/CHF currency pair on the D1 chart. At the moment we can see that the price came out of the uptrend price channel and crossed the trend line downwards. The candlestick pattern "absorption" indicates the trend reversal: the body of the second bearish candlestick exceeds significantly the body of the previous white candlestick (marked in red ellipse on the chart).

That means the bullish trend is weak, and now bears are gaining strength. There is no contradiction on the part of the RSI-Bars oscillator: the graphic model "double top" can be observed on the oscillator chart. It outlines the bullish trend termination and the onset of the bearish one. The current downtrend direction is confirmed by the Parabolic values. You can wait for the last confirmatory signal from Donchian Channel, when the price breaks the fractal support level at 0.9358. This mark can be used for placing a pending sell order. Stop Loss is recommended to be placed at 0.9687. The mark is confirmed by Bill Williams fractal, the upper boundary of Donchian Channel and Parabolic values.

After position opening, Trailing Stop is to be moved after the Parabolic values, near the next fractal peak. Updating is enough to be done every day after the formation of 5 new H4 candlesticks, needed for the Bill Williams fractal formation. Thus, we are changing the probable profit/loss ratio to the breakeven point.

Position Sell
Sell stop below 0.93588
Stop loss above 0.96872

Daily Technical Analysis by IFC Markets
Read more articles by IFC Markets here
Return to IFC Markets Articles.