An example of trading binary options
Trend Following Method

---
Trading binary options calls for a common sense approach. The main approaches are either the Trend Following Method or the Reversal Method.
Depending on what our broker allows we may enter a option position with less than 15 minutes remaining before we realize a profit or loss. So how do we make sure our very short term investment is going to pay handsome dividends? That is let us profit between 70 to 80% of our investment!

One answer is using the TREND FOLLOWING METHOD which involves selecting chart patterns that indicate "full on" bearish price action (for put options) or "full on" bullish price action (for call options).

Take for example the chart below we see some ideas that we know price has a very high probability of continuing downward.

We would have entered a PUT binary option fairly confident that price will continue on it's journey downward. Here's why;

1. Major trend is down on higher time frames.(not shown on chart below).

2. Price under 7 period exponential moving average.

3. Big bearish candle closes under support level.

4. Price enters wave five formation after break of support level.

If you would like to understand exactly how binary options work, read more and watch a video here.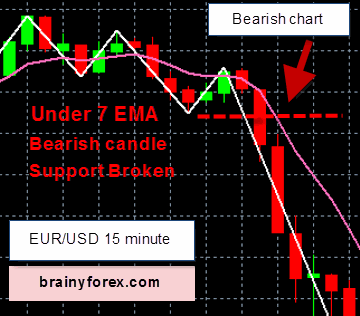 We would be wise in selecting a "full on" bearish chart like this one before buying a binary PUT Option.
Another well known type of option strategy is known as a REVERSAL STRATEGY. Candlestick chart pattern come in handy for this type of analysis. High probability reversal patterns include shooting stars and engulfing patterns. Learn more about candlesticks here.
More specific option strategies like the The Pinocchio Strategy, The Knock on Effect Strategy, The Inside Bar Strategy, The Momentum Strategy, The Double Red Strategy and The Straddle Strategy are shown for no cost on Binarywiz.com.
For more information about options in general, go here.
Find out step by step how to place a trade with binary options here.
How Do You Feel About This Topic?
What are your thoughts about this? Share it!
---