With our ZuluTrade review we only selected one signal provider this time

---
For the period 12 November 2011 to 12 December 2o11 our ZuluTrade demo account went well.
In prior months we had chosen several signal providers with not so good results. This time we selected only Forex Cruise Control and this signal provider produced a very steady smooth looking equity growth account.

Forex Cruise Control kept risk to a minimum and made a safe and steady 225 pips profit.

225 pips profit for the one month period tested is not exactly outstanding performance but it was a consistent effort. No large drawdowns nor large loses. Just small steady profits and minor small loses.

Forex Cruise Control is currently the number one ranked signal provider at ZuluTrade. FCC manages just under 20 million dollars worth of live accounts with 10,612 followers.

Prior months results for testing different combinations of signal providers can be found here.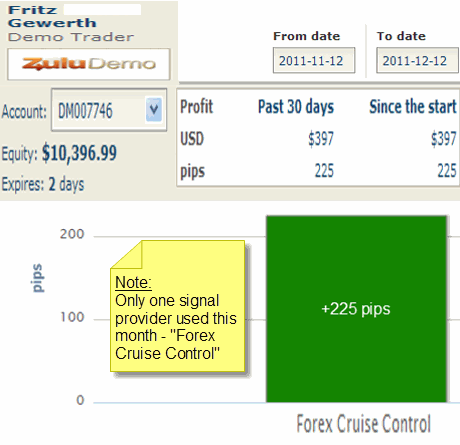 Quick statistics for ZuluTrade's current number one signal provider Forex Cruise Control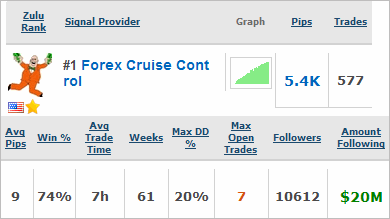 Although Forex Cruise Control has never had a losing month since it's trading with ZuluTrade (currently over 14 months) this does not guarantee that some future months may be unprofitable. In the past the system has held onto a large drawdown as explained by FCC;

This is a message posted by FCC on ZuluTrade's performance page;

30 days ago
UPDATE: On the "DO NOT BASE LOT SIZES ON HOT STREAKS" comment from before, I said this because for the past month or so I have been experiencing fairly low DD of <200 pips. I want people to be aware that no one can predict the market 100%, so you have to always practice safe money management to allow for any unpredicted storm that could rock the boat (unexpected large DD). This system has experienced a DD of 1.06k in the past, so it is not to say that it can't happen again. I believe I have improved in recognizing set ups that could potentially cause big DD, but one needs to always be prepared. Especially in the coming holiday months, when the market tends to be a little more unpredictable. My goal is to grow my subscribers accounts as safely as possible until they reach a point where they are risking their profits and not so much their initial investment. When you make money I make money, so I try to enforce responsible MM as much as possible, to keep this train going. I can not tell you how to manage your account, as everyone has different goals and different definitions of risk, so all I ask is that if you choose riskier settings that your doing it at your own risk and I don't receive negative comments from someone who tried to get rich overnight. This isn't a race, this system can provide 5-10% ROI just with the conservative settings, so as long as we have a working system in place with proper MM, we should all be prosperous for the long term. Please read my profile description about dealing with slippage. Thank you! Forex Cruise Control.
Return home from ZuluTrade review