The easiest way to buy gold is throught Karatbars
---
Looking to buy gold? Many discrete buyers are now turning to the gold market to protect themselves against the effects of inflation.

Karatbars offers clients worldwide the ability to buy and sell gold through their personal computer.

It simply does not get any easier to buy and sell gold 24 hours a day around the clock .

For more information visit www.karatbars.com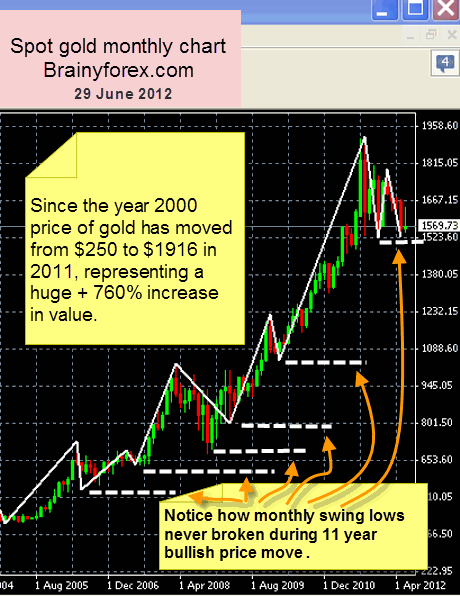 The above gold price is shown on the monthly chart. Since the year 2000 it surely has been a gold buyers delight. The price of gold has risen from $250 in the year 2000 to $1916 in 2011, representing a 760% bullish move.

Where will price move to from here? Today, 29 June 2012 price is showing $1,569.51 and currently holding above the monthly swing low level of $1,510.00, which is also a natural square support level.

Should price break under the $1,510.00 level we should see more downside bearish price action. If price can stay above the $1,510.00 level and move above the prior month high then we should see prices continue to move upwards.

It's also anticipated that according to WD Gann's master time factor that the 60 year cycle should push gold prices higher from this point forward. The cycle forecast shows that there is a high probability that a retest of the $1,900.00 level may take place about October 2012.

We will have to watch how the swing levels eventuate from this point forward. Especially will the daily swings be of great help showing which direction the precious metal will move.


---
Return home from buy gold page

[About Us] [Contact Us] [Privacy Policy] [Disclaimer] [Search & Site Map] [Blog] [Transparency] [About You] [Newsletter] [Live Results] [Reviews] [Questions & Answers] [Articles] [Join Us] [Free Systems] [Winning Systems] [Affiliates]