Gold buyers and sellers can benefit greatly by looking at the monthly swing chart

---
Where is the price of gold heading? We can see from the below monthly chart of gold as at 10 September 2014 that gold has been in a sideways range for just over a year since it broke the prior swing low in April 2013. 
At 29 June 2012, (read below) we had an expectation that gold could have had a high possibility of continuing to move higher from that point onward if it held above the monthly swing low level of $1,510.00. As the 60 year cycle indicated bullishness and the US Dollar was showing major weakness.
Now as of today, the 10th September we have experienced a huge bullish reversal of the US Dollar over the prior two and a half months indicating the US Dollar is not in any near term danger of collapsing.
This now means that the price of gold has downward pressure on it towards the levels of 1184.00 and 1210.00 area. If the 1184.00 level is broken to the downside, it could cause gold to lose more of it's value rather quickly. (It should be noted that the 1184.00 level indicates major support as a possible triple bottom formation and 1210.00 is a natural square level also indicating possible support).
Notice how price has moved below the prior months low of August. WD Gann said that once a prior month low is broken to the downside it signals weakness in the price. So from here onward it's a bit hard to tell which direction gold will move. I certainly would not want to be a gold buyer right now as price has a very high probability of moving further downward to test the 1210.00 to 1184.00 price zone.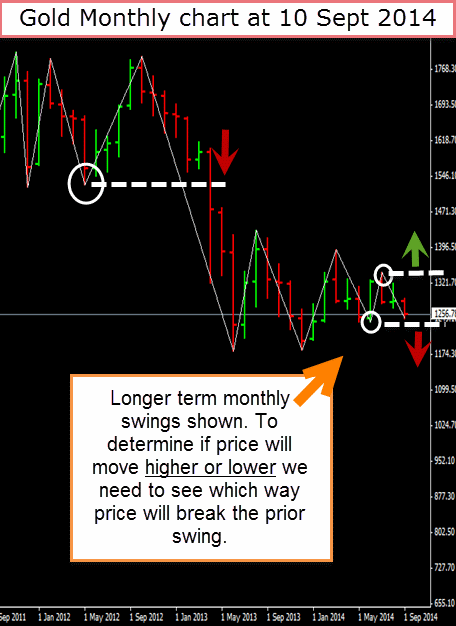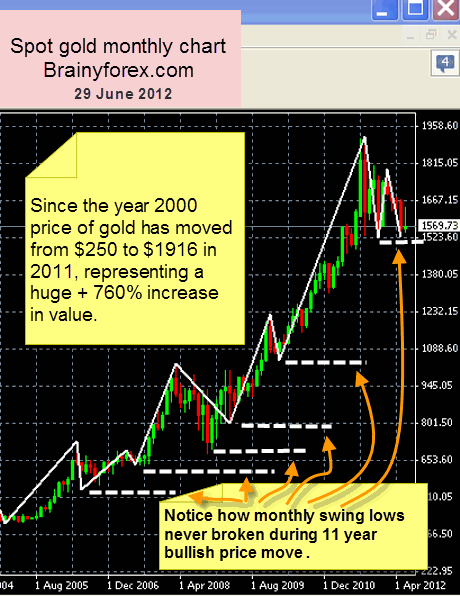 The above gold price is shown on the monthly chart. Since the year 2000 it surely has been a gold buyers delight. The price of gold has risen from $250 in the year 2000 to $1916 in 2011, representing a 760% bullish move.

Where will price move to from here? Today, 29 June 2012 price is showing $1,569.51 and currently holding above the monthly swing low level of $1,510.00, which is also a natural square support level.

Should price break under the $1,510.00 level we should see more downside bearish price action. If price can stay above the $1,510.00 level and move above the prior month high then we should see prices continue to move upwards.

It's also anticipated that according to WD Gann's master time factor that the 60 year cycle should push gold prices higher from this point forward. The cycle forecast shows that there is a high probability that a retest of the $1,900.00 level may take place about October 2012.

We will have to watch how the swing levels eventuate from this point forward. Especially will the daily swings be of great help showing which direction the precious metal will move.
---
Return home from buy gold page