Use MetaTrader To Build Your Own
Automated Forex Trading Robot
---
MetaTrader 4 (MT4) & MT5 software trading platforms are easy to use online trading platforms with technical analysis capabilities. They were specially designed for online trading with the development and operation of automated trading systems in mind.

The programs have the ability to have expert advisor(s) plugged into them to fully automate the trading process, thereby creating a fully functional mechanical trading system. Your very own forex robot that trades for you.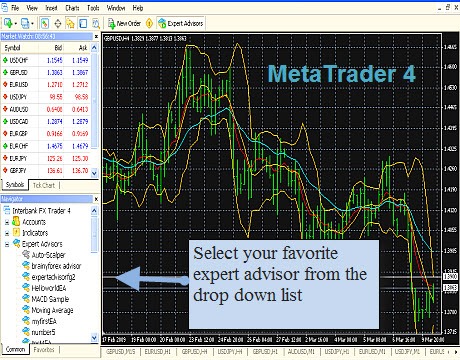 Traders using MetaTrader have the choice of;
Using the platform manually without an Expert advisor attached. (Manual Trading) or
Purchasing an expert advisor program(s) and plugging it into the MT platform or
Obtain free expert advisor program(s) through forum member groups or similar interest groups on the internet or
Developing their own expert advisor program(s) or
All of the above or any combination thereof. It is also possible to setup several expert advisor programs trading at the same time as well as trading manually.
MetaTrader was Developed by MetaQuotes Software Corp (www.metaquotes.net)
MQL4 Introductory course

Developing your own expert advisor system / forex robot will require some knowledge of MetaQuotes Language 4 (MQL4). For those whom have no previous programming experience but would like to learn there is a free book written by Sergey Kovalyov "MQL4 Introductory course" which is an excellent publication that starts at the beginning to make the learning process easier to understand. Click here for a copy of this free course
Expert Advisor Builder for MT4

If you don't want to learn the programming language MQL4, a fast alternative is to use this 'Expert Advisor Builder'... Easy way to build your expert advisor.
Or an inexpensive program that creates simple or complex expert advisors without any need for programming skills can be found at www.eatree.com

Or if you would prefer to become an expert in the MQL language, Steve Fleming offers a video course specifically designed for new comers whom would like to learn through video instruction how to write the source programming code themselves. Read more here.
Backtesting in MetaTrader

It is also very important to understand how to backtest and optimize a trading strategy properly. Most traders think they know how but don't really understand the importance of "walk forward" testing. Read a bit how it works here.
They now have MT5 available.

Free Expert Advisor Robots

ForexMT4.com hosts a library of free expert advisors. To get your free EA go to www.forexmt4.com.
Where to Download MT4 Software

The actual downloading of the MT4 software can also be done through your own forex broker, assuming they utilize this platform.

There are currently hundreds of forex brokers whom utilize the MT4 software. In addition, many other brokers adding the software to their firms daily.

For information you need to know about choosing a forex broker, click here.
To operate the software traders need to download it from their chosen broker.

Version 5 is available at www.metatrader5.com.
Further Help and Assistance with MT4 & MT5 automated trading

Excellent content and member posts can be found at the MQL4 Community forum at http://www.mql4.com. www.mql4.com.
Also, the forum at forex-tsd.com has plenty of help and resources. www.forex-tsd.com.
Also, brainyforex articles here.
Trading Strategies

To consider strategies to program into expert advisors go here

Advanced Money Management for EA Robot's

It's now possible to improve the performance of "ANY" forex robot through advanced money management software.

Plugin the DDSMM intelligent money management software and it will analyze the trading history for the system and calculate the optimum lot size taking into account winning and losing streaks. Can be added to any commercial or non-commercial system. Learn more about it here.

Trading idea's from the 2008 championship winners




To review actual system results for the 2008 Automated Trading Championships and find out what made the top three forex robot systems so good click here.
Need help setting up your forex trading robot?

Hands on assistance is available for those whom would like a forex expert to set up their forex trading robot for them. Read more about the service provided by RobotSetup.com.
Advanced Metatrader user and would like to go public with your EA?

Read about the journey of how a couple of traders found out there was a lot more work involved than they had imagined in releasing their private trading system to the public here.

---
Return Home from MetaTrader

[About Us] [Contact Us] [Privacy Policy] [Disclaimer] [Search & Site Map] [Blog] [Transparency] [About You] [Newsletter] [Live Results] [Reviews] [Questions & Answers] [Articles] [Join Us] [Free Systems] [Winning Systems] [Affiliates]